DistributionNOW
---
Learn how we developed a fresh identity and standards to efficiently deploy a global brand
°
---
Overview
In 2014, the distribution arm of National Oilwell Varco was spun off to form a new publicly listed company, DistributionNOW. While it had a legacy spanning 150 years, the newly formed entity urgently needed a distinct brand identity to compete in the marketplace.
What We Did
Spun-off the company
Renamed the company
Increased sales
How We Did It
Defined what the company stands for
Built the brand from scratch
Penetrated new markets
Challenge
DistributionNOW, the energy and industrial sectors' leading distributor of pipes, valves, fittings and artificial lift systems turned to us to help define and launch the new brand.
While the company name is new, the experience and expertise spanned more than 150 years. We needed to figure how to illustrate the new brand with its new independence and energy, while maintaining a connection with the great heritage and respected reputations of the legacy brands: National, Oilwell and Wilson Supply, hence N-O-W.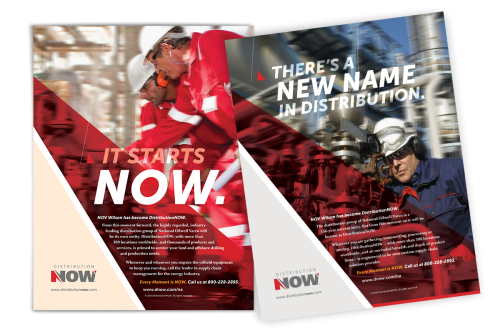 Strategy

Messaging Re-alignment
We developed fresh brand messaging that reflected a continuous sense of duty to engage DistributionNOW's employees, customers and shareholders. Their customers are doing enormous things like assuring that people have heat and power and the wheels of commerce can keep spinning.
The new brand captured that sense of urgency and helps DistributionNOW express their efficiency and commitment to deliver on a moment's notice.
Brand Consolidation
DistributionNOW had many legacy brands and struggled to differentiate itself. We created an identity that conveys rapid, reliable and efficient distribution of supplies.
The identity conveys movement in more than one direction, signifying the rapid, reliable and efficient distribution of supplies. The structure of the N suggests dynamic movement, but also a convergence, as DistributionNOW and its customers together create reliable, efficient distribution solutions. The space through the center of the N represents a consistent, well-paved pathway for connection, communication and commerce. The triangular red tip of the W is a simple, logical nod to the legacy Wilson logo.
Agile Website Redesign
As we were designing and developing the brand with its various graphic elements, DistributionNOW was also driving toward its formal announcement on Wall Street as a new publicly traded company. Because of the tight turnaround, we efficiently redesigned one of DistributionNOW's legacy brand's websites. By migrating it to our CMS, SAM, we enabled DistributionNOW to streamline user experience.


The Impact
Outside the of the global brand strategy, one of the single most important deliverables was the methodology for deploying the brand. We protected the implementation of the brand with smart standards and supported the worldwide launch in record time.
"We are coming from a very large, known entity with a lot of brand equity in National Oilwell Varco. The challenge is to capitalize on that, yet become our own distinct brand. BrandExtract helped us define our true identity and express it across all touch points."

— Robert Workman
President & CEO, DistributionNOW
Related Work
NUTECH

Read How We Extended the Customer Sales Life Cycle by Rebranding the Company and Restructuring Service Offerings°

Explore our case study

Transocean