Article
A Beginner's Guide to Building a Brand in 2022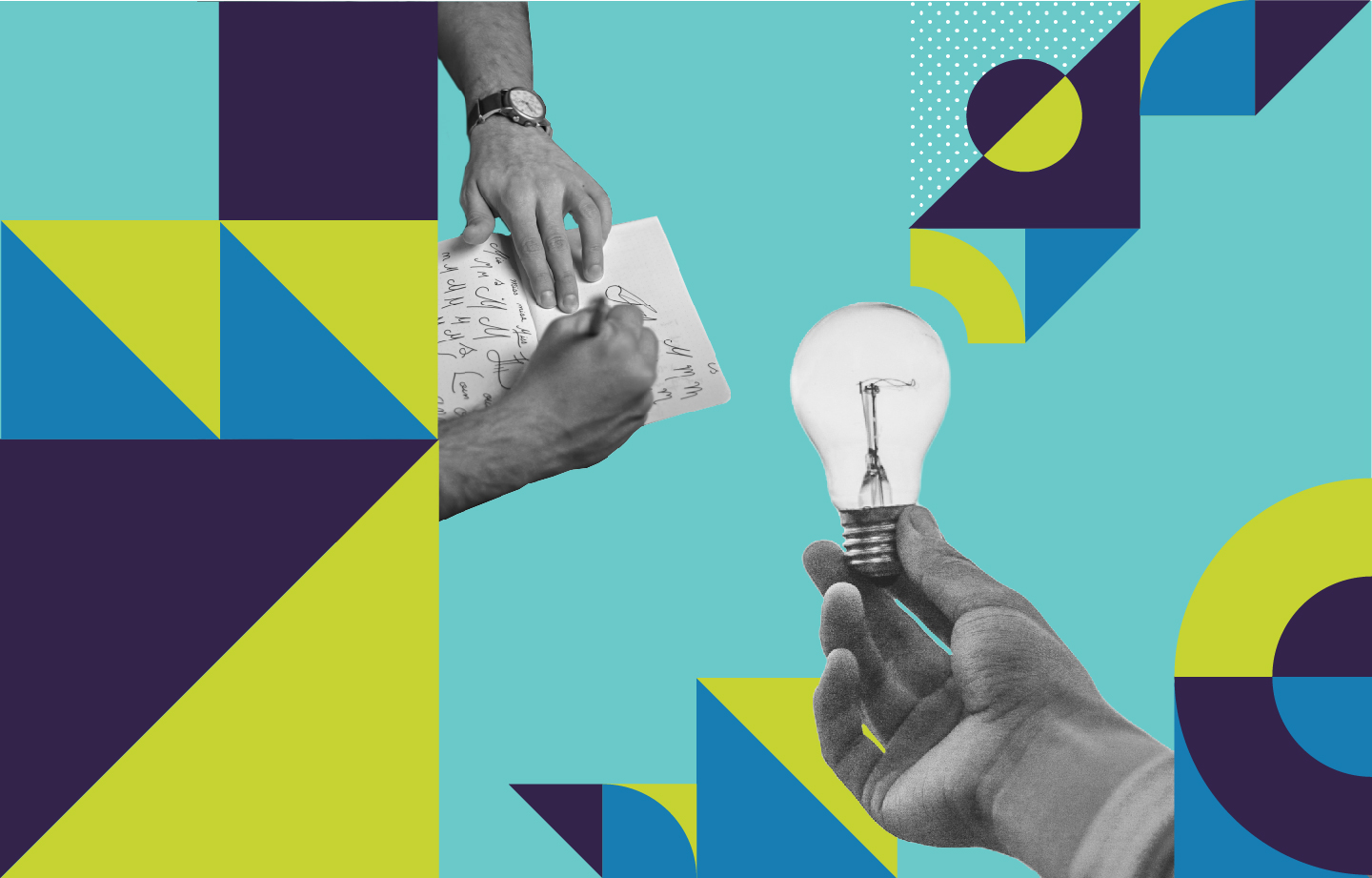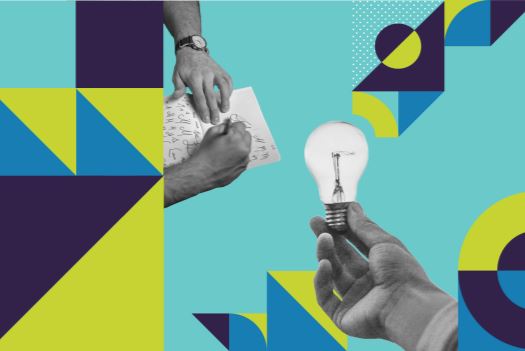 "Your brand is what other people say about you when you're not in the room." That definition comes from a guy who knows a thing or two about branding and business: the world's second-richest man, Amazon Founder, Jeffrey Bezos.
Bezos leveraged the power of brand to build Amazon into a multi-billion dollar company. Since founding Amazon in 1994, he's consistently invested in its brand. As a result, Amazon has grown into the world's third-largest business ​​with $321.8 billion in revenue. It's top of mind for many consumers who are looking to make their next purchase of, well...almost anything. Bezos' success with Amazon is just one example of the power of brand.
Your brand is both an important business asset and a powerful business solution. If you have a strong brand like Amazon, you'll get more people to buy your product at higher prices for longer periods of time. That's a win for you and your business.
In this article, we'll cover the basics of branding, the steps you can take to begin building a strong brand in 2022, the difference between branding and marketing, and a few examples of how a strong brand can directly impact a business.
Let's dive in.
The Basics of Branding
Your brand is the perception of your company held by your customers, your investors, and all of your stakeholders. It's a combination of promise and personality that impacts how people feel about your company in the marketplace.
A brand is more than a logo – most people understand that now. A new logo or color palette is just a single, tactical element of your entire brand experience. A brand is really a company's ability to tell its story based on their corporate strategy. That impacts perception and reputation.
There are a variety of definitions that capture the meaning and value of brand.
"A brand is the most valuable piece of real estate in the world: a corner of someone's mind."
Sir John Hegarty, Advertising Executive
"A brand isn't just the name on the box. It isn't the thing in the box, either. A brand is the sum total of all the emotions, thoughts, images, history, possibilities, and gossip that exists in the marketplace about a certain company."
Luke Sullivan, Hey Whipple, Squeeze This
"A brand is a person's gut feeling about a product, service, or company."
Marty Neumeier, The Brand Gap
A brand is a shorthand for the customer's expectations...If people care, you've got a brand."
Seth Godin, This is Marketing
A strong brand is designed to get people to buy more, pay more, make quicker purchasing decisions and stick with the company until they become brand advocates. Brand influences and reflects everything from operations to sales to internal company culture. It even impacts SEO. It's the ultimate power tool that supports multiple areas of your business – from marketing to management to hiring and recruiting.
So... how & why does TOIRO rank so well?

The answer, in a word, is branding. They've built an incredible brand that, at least in the online world of Japanese recipes, is *synonymous* with donabe.

This page illustrates it well: https://t.co/XrjNjKZJkN pic.twitter.com/kN0OLx1V9n

— Rand Fishkin (@randfish) April 6, 2021
And in a world where commoditization is on the rise thanks to technology, globalization and a host of other factors, a strong brand is more important than ever. A strong brand rises above features and functions to create brand believers so you can attract new customers and top talent.
While brand is an intangible asset, it has a huge impact on company value: "A brand isn't just a semantic construct, either. The relationship between the brand and its customers has monetary value; it can amount to literally billions of dollars. Brands are assets, and companies rightfully include them on their financial balance sheets." (Hey Whipple, Squeeze This, 20)
A strong brand = 💰💰💰
That's why it's worth investing in.
Building a Brand in 2022: Where to Start
At BrandExtract, we've honed our brand assessment process across thousands of customer interviews and survey points to consistently deliver results rooted in competitive research and market analysis.
An Example of Our Branding Process
Step 1: Research: Conduct quantitative and qualitative brand research internally and externally.
Step 2: Analysis: Develop the brand pyramid, positioning, and company uniques.
Step 3: Identity: Build a visual methodology that effectively communicates the brand.
Step 4: Voice: Craft compelling messaging to communicate the brand.
Step 1: Research
With research, you can get to the core of your company and better understand the type of story you want to tell. That starts with internal and external analysis. Internally, study how your brand lives and manifests itself in the workplace. How do employees feel about your values and your culture? Externally, examine how people experience your brand and analyze competitive offerings. What differentiates you in the marketplace?
After this step, you should uncover the "soul" of your company, or what it is truly about.
Step 2: Analysis
A brand pyramid is a framework for strategic positioning. It helps uncover a business's unique value proposition aligned with customer value drivers and market differentiation. It's essentially a litmus test as much as it is a filter for what fits and doesn't fit within the brand's strategy and messaging, and hierarchy.
Start by answering key questions that will help uncover your brand position – the gap between the customer need and your critical success factors.
Elements of the Brand Pyramid
Client Value: What need or desire is your product or service filling for your customer?
Critical Success Factors (CSFs): What are the factors vital to the success of the target market?
Financial Impact: What business value is derived from the value-add components?
Value-Added Products & Services: What supports the core competencies and helps differentiate the company from the competition?
Core Competencies: What enables your company to compete?
Step 3: Identity
With your visual identity, your goal is to produce a unified brand experience. Start with the overall brand story with visual brainstorming with inspiration mood boards and analysis of the competition.
Then focus on making sure the visual story complements your company strategy. Your goal visually and in your messaging is simple: use the brand's visual elements to authentically tell your story.
Step 4: Voice
Think about where you could take your brand and the story behind what drives you. That should be founded in your mission, vision, and values – and of course your brand pyramid. Then craft compelling messaging to communicate your brand.
One key piece of this in 2022 is leveraging your people to be an extension of your brand voice. People want to do business with other people. Your best advocates are your employees, so empowering them and incorporating them into your branding strategy can help you grow your brand.
The B2B companies that have built strong brands encourage their people to post on their own accounts and grow their own brands – not in place of but rather as a complement to corporate branding efforts.
Find Your Essence
Our process is just one way to build a brand people believe in. It might seem complicated, but it's all meant to get to the essence of who you are as a company. Because if you boil things down, building a brand starts with knowing who you are and what you believe, and standing for it all the time.
Ad executive, Luke Sullivan stresses that "People don't have time to figure out what your brand stands for. It's up to you to make your brand stand for something" (27). Leslie Higgins from Apple's hit TV show, Ted Lasso, is even more direct, "I suppose the best brand is just being yourself."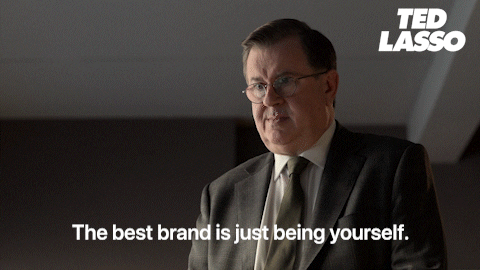 Yvon Chouinard, founder of Patagonia, echoes that idea about Patagonia's brand: "Our branding efforts are simple: tell people who we are."
When you can effectively communicate who you are, you can capture a mindshare of your audience so you're top of mind for a future purchase. This is a key point to understand about your brand: it exists in the mind of your customers. So you don't own or control your brand; instead, you can manage it by effectively telling your story based on your business strategy.
Branding Isn't Marketing
An important distinction: branding isn't marketing. Here's an excerpt from one of our Solving for B° podcast episodes about the key differences.
Bo: Branding is more focused on how someone feels about a product or service, or how we get them to engage with that product. Marketing is a little bit more about how we're telling people why it matters to them.
Elizabeth: Yeah. Branding is at the essence of who you are as a company. It's all about how you behave, the experience you provide to customers. Whereas marketing is much more about how you promote yourself through different tactics, vehicles and channels to promote and encourage a sale. Branding is more about creating loyal advocates for your company.
Bo: Right. The goal of branding is to get more people to buy more stuff at higher prices for longer periods of time. But marketing drives the behavior that makes that happen.
Yvon Chouinard compared branding and marketing this way: "Branding is telling people who we are. Promotion is selling people on our product. Our promotional efforts begin with the product." (Let My People Go Surfing)
Marketing = short-term promotion.
Branding = long-term messaging and strategy.
Building a strong brand takes time, so don't expect to see results overnight. It's sustained effort that allows you to build your brand and see its impact.
Examples of Brand Impact
Every day we make purchasing decisions based on brand. Think about any commodity: beer, bath tissue, soap. Often, we choose to interact with certain brands because they are different in their messaging and their mission. Or they've built a reputation so they've been highly recommended among peers or consistently received positive reviews. We often choose to make a purchase based on brand alone. That's the power of building a brand, investing in it, and being consistent over a long period of time.
Coca-Cola 🥤
Coca-Cola is one company that has built incredible brand equity. Heck, in some regions of the country, ordering a 'Coke' is synonymous with ordering a soda. Luke Sullivan sums up the power of Coca-Cola's brand this way: "If you systematically dismantled the entire operation of the Coca-Cola company and left them with only their brand name, management could rebuild the company within five years. Remove the brand name and the enterprise would die within five years."
Because Coca-Cola's brand is deeply rooted in American culture, it's brand translates to revenue and growth year after year.
Patagonia 🏔
A brand that knows what they stand for and stays consistent with their mission and values is Patagonia. Early on, Patagonia embraced the basics of branding: being themselves and sharing the essence of the company in their messaging. "Our branding efforts are simple: tell people who we are," said Yvonne Chouinard.
Visit Patagonia's website and you'll see how invested they are in their mission. They have a section dedicated to activism to tackle pressing environmental issues. Sustainability is at the core of Patagonia's product, culture, and brand. In short, they're authentic and true to who they are in their values, supply chains, and messaging.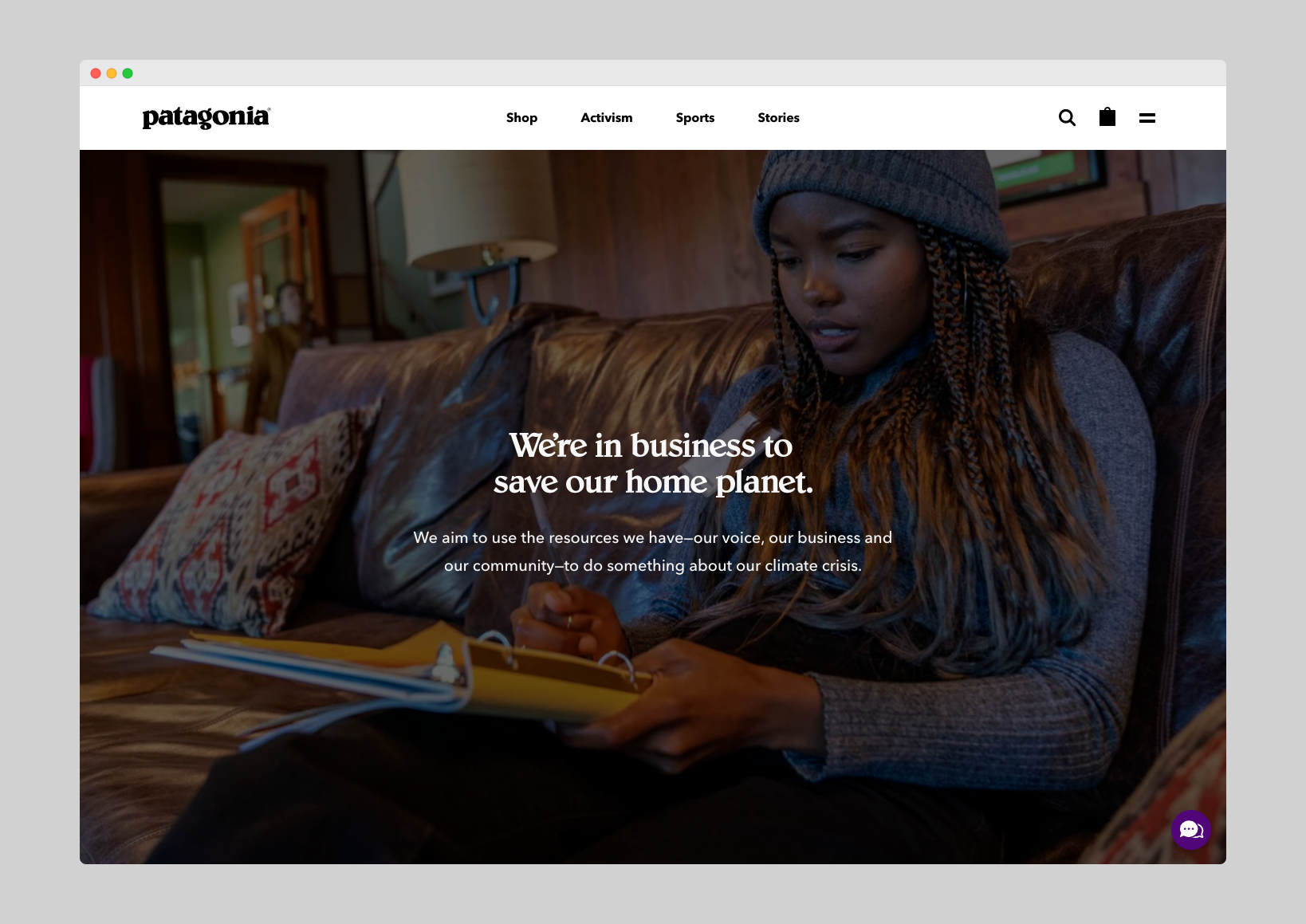 "Patagonia's image arises directly from the values, outdoor pursuits, and passions of its founders and employees. While it has practical and nameable aspects, it can't be made into a formula. In fact, because so much of the image relies on authenticity, a formula would destroy it. Ironically, part of Patagonia's authenticity lies in not being concerned about having an image in the first place. Without a formula, the only way to sustain an image is to live up to it. Our image is a direct reflection of who we are and what we believe." (Yvon Chouinard, Let My People Go Surfing)
Yes, Patagonia's activism and dedication to case branding can be polarizing. But Patagonia has never wavered in what they believe. That brand consistency and authenticity has helped attract customers who not only enjoy Patagonia's products, but also their activism.
Apple 🖥
iPhone. Airpods. Macbook. Apple has developed an array of products that have been extremely popular among consumers. But it's become about more than product performance for Apple. That's why people will camp out overnight to get their hands on the latest product launch. That's why Apple can charge a premium for its products. That's why Apple's cost-to-market is much lower than other companies in their industry.
There are TONS of other great headphones out there for cheaper.

But these are going to be the ones to buy, simply because they are Apple.

This is the power of brand. pic.twitter.com/eBL499uDZC

— DGMG (@joindgmg) December 9, 2020
Because Apple has built a brand that people know and believe in, they've generated a huge amount of value in their brand.
Conclusion
Brand has always been important. But in 2022, it's going to be the key to every company's ability to grow, attract talent, and retain customers.
The bottom line: the market will reward your brand if you align your values with action, know what you stand for and stand for it all the time, and effectively integrate your messaging with your strategy. That's what it takes to build brand believers.