Malcolm Wolter
Partner, Operations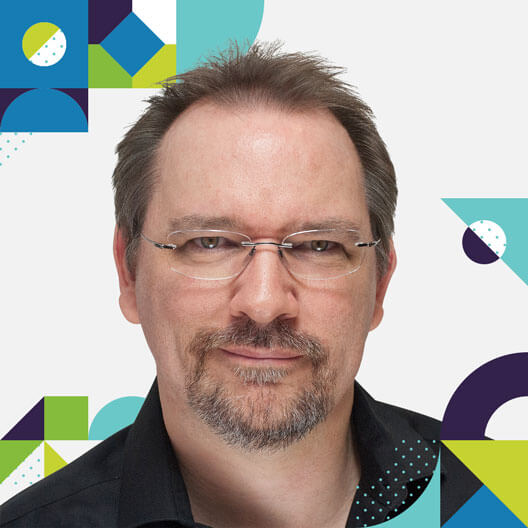 UX Expert, History Lover, Tabletop Gamer
As a founding partner and the Vice President of Digital at BrandExtract, Malcolm Wolter puts the user first, last and always when approaching any digital project — a philosophy he encourages across the board. Malcolm is the driving force behind BrandExtract's user-centered approach to interactive design. This deep approach to the design and branding processes, Malcolm says, is the only way to inspire lasting change and results. But when he's not driving his user-centered philosophy, you can find Malcolm exploring history or diving into dungeons with some of his favorite tabletop games.
If you ask "why?" enough, you can start to make some well-informed decisions that truly benefit your users — people. To create long-term accountability, progress and ROI, you have to start there.
A native of Victoria, Texas, Malcolm is a graduate of Southwest Texas State University with a B.A. in Graphic Communications. He is a former founding partner in Bravo Zulu! Interactive, a prominent digital design firm that merged with BrandExtract in 2006.
Malcolm is a Certified Usability Analyst and has produced eminently usable products for a long list of clients, including Compaq, GE, Schlumberger, Marathon Oil Corporation, Ernst & Young, Houston Ballet and the San Jacinto Museum of History. He is also a regular attendee at numerous industry summits and conferences, including Web 2.0, Usability 2.0 and the HOW Design Live Conference, where he has previously been a guest speaker.
"The team is by far the best thing about BE," Malcolm says describing the BE team. " We are a really passionate group of people who are heavily invested in the success of our clients. We get to work on some really cool projects, and help large global companies define or redefine their brands. It's very rewarding."
Malcolm takes a personal interest in building long-term bonds with organizations throughout the Houston community. He is actively involved with Special Cheers, which provides therapeutic services for children and young adults with special needs, as well as with the San Jacinto Museum of History. An armchair historian, Malcolm has worked with the museum for more than twelve years, guiding the development of three generations of the museum's website.
"I have a passion for history and am an unabashed Anglophile," Malcolm adds, "so I love traveling with my family and visiting historical sites in Texas, the U.S. and the U.K. I enjoy reading history and historical fiction. A closet geek from way back, I enjoy running tabletop and virtual RPGs for friends and family and have a vast collection of games, miniatures and scatter terrain, both physical and digital. I have lost myself for weeks and months on end making maps of places that don't really exist."
Fans of the late, great Houston live music scene might also recognize Malcolm from his former musical career. He was a founding member of Rat Ranch, a popular rock 'n' roll cover band on the Richmond strip in Houston, 6th Street in Austin and many other venues around Texas in the late 80s - early 90s.
Education
BFA in Graphic Communication, Southwest Texas State University
Certified Usability Analyst, Human Factors International
Awards
AMA Crystal Award Winner

Art Director's Club of Houston

BMA Lantern Award Winner
WebAward Winner
W3 Award Winner
Organizations
Human Factors International
Second Wind Network
User Experience Professionals Association