We launch your ESG website with flexible tools and dynamic visuals, allowing you to tell your story beautifully and efficiently.
Our all-in-one platform makes ESG reports look exactly how you want them.
With Environmental, Social and Governance (ESG) reporting becoming the new standard, companies need a robust suite of tools at their disposal for displaying their sustainability and social responsibility data to stakeholders. ESG Reporting Partners, BrandExtract's ESG reporting arm, works hard to ensure that your report aligns with your corporate and brand strategies, from inception to launch.
Artisan, ESGRP's reporting platform, makes ESG branding on the web approachable for any user. Simply collect your data, choose the framework, write the content and Artisan does the rest. We built Artisan to be your reporting partner, with flexible features that allow you to take control of the look and feel of your report.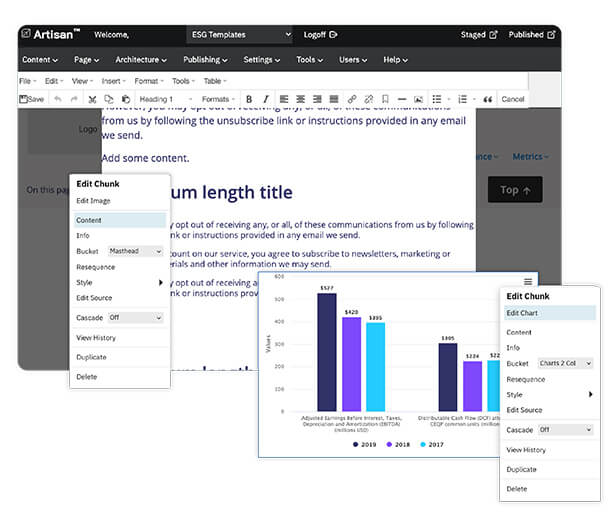 Our expert team of strategists and comprehensive reporting tools help you set up your website in a fraction of the time it would take from scratch. That's why ESGRP has worked with notable publicly-held corporations and Fortune 500 companies for their ESG reporting solutions.
Our Services
ESG Consulting
Report Creation and Publishing
Marketing and Hosting
Distribution Strategy
Data Collection
A few of our ESG clients.
In the end, we were able to publish the sustainability report ahead of schedule and it turned out to be what we think is industry-leading. We have received a number of compliments on how interactive and dynamic the site looks and how easy it is to navigate and find information.