Donovan Buck
Partner, VP, Technology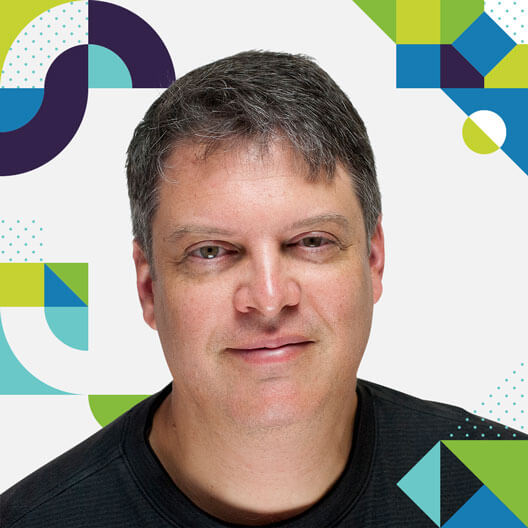 Robot Builder, Cycling Enthusiast, Baseball Nerd
As BrandExtract's VP of Software Engineering, Donovan is perhaps the most vocal about pushing the development team to stay at the forefront of their field. He believes that to develop truly innovative technologies that remove roadblocks for users, you have to constantly learn and grow your own capabilities. Donovan leads the development team in creating cutting-edge websites and tools for our clients. You'll be hard-pressed to find Donovan not tinkering with technology even outside of work. He regularly contributes to open-source frameworks for building robots and regularly speaks at programming conferences across the country.
We are all very lucky to be in the world at this time. The pace of change makes this one of the most exciting times in history to be a curious nerd.
In the mid-90s, he and fellow partner, Malcolm Wolter, co-founded Bravo Zulu! Interactive, which merged with BrandExtract in 2006. Donovan has led the development of custom applications and large-scale corporate websites for clients such as Marathon Oil, Apache, Murphy Oil and Ernst & Young.
This native Houstonian studied computer science at the University of Houston and continues to further his programming knowledge at key industry events, including JSConf, NodeConf and TXJS. He is a regular contributor to Johnny-Five, an open-source framework for programming robots using JavaScript. Donovan is also fluent in XML/XSLT, ASP, SQL, JSON, JavaScript, and other programming languages and created the J5e embedded systems framework for robotics and IoT. He has also made a written contribution to the first edition of JavaScript Robotics: Building NodeBots with Johnny-Five, a book featuring innovative programmers' tips on the processes to programming and robotics.
Donovan appreciates BrandExtract's work-life balance, and in his spare time, enjoys robotics, electronics and reading southern-gothic literature.
Education
Awards
Contributing author, "JavaScript Robotics: Building NodeBots with Johnny-Five"
Special Guest Speaker: Cascadia, Nodevember, JS Conf Columbia, EmpireNode
Organizations
Invited Expert ECMA TC-53

Open JS Foundation Standards Working Group member