Article
How to Build ROI and Accountability Into Your Marketing Plan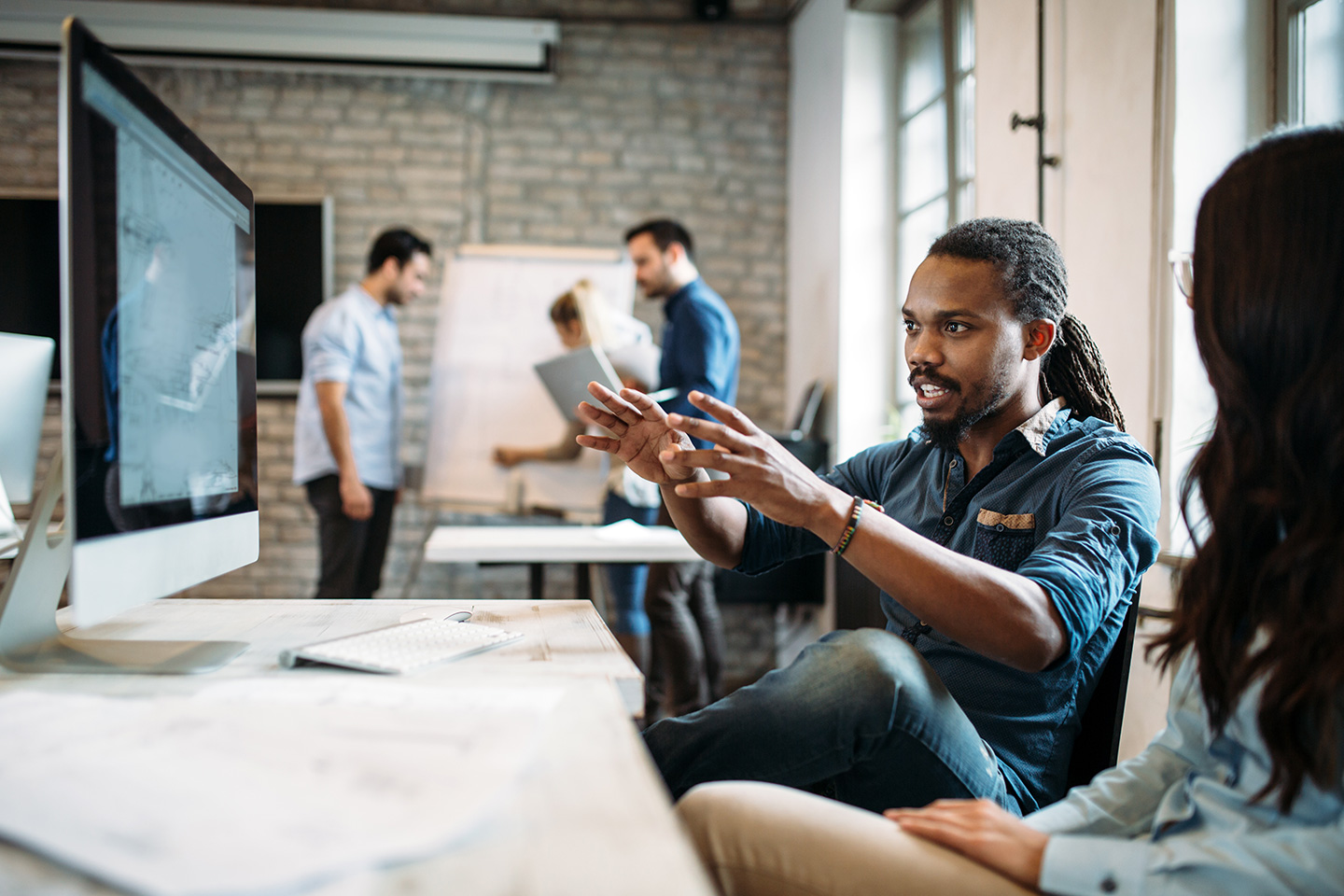 While determining the right marketing mix can be a significant undertaking in itself, some of the biggest challenges associated with building a strategic marketing plan include assigning accountability and resources for each task, staying on track throughout the year and demonstrating your plan's impact and ROI.
As we work through our annual marketing plan, as well as plans for our clients, we are excited to share tips and strategies to help your team stay accountable, complete planned activities, reset if necessary and measure success. Get ready to conquer your marketing plan.
Create a Solid Foundation
To drive meaningful ROI, your marketing plan should always be based on specific and actionable business goals. Consult with your leadership team to define overall business objectives, and then create marketing strategies to support and achieve them. After these broader strategies are defined, you can move on to choosing tactics that will push performance in each area.
As you finalize your marketing mix and determine the channels you will focus on, we recommend crosschecking every activity in your plan to ensure it matches up with a marketing strategy. If an activity does not match any of your overall strategies, it is likely a distraction, and you should remove it from your marketing plan.
Think critically about what resources you need to complete each activity. Even projects that you may choose to handle in-house for "free," like SEO optimization or social media engagement, require a significant time investment from your team.
In this phase, be realistic about the scale and depth of your marketing plan. Is the level of activity reasonable considering your business goals? The appropriate budget and plan size depends on several factors:
The size of your company
Your organization's growth goals
Type of company and the standards to compete in your industry
Business priorities or initiatives (i.e. Are you launching a new product or entering a new market?)
What you and other company leaders are comfortable spending
Expert Tip: Use this formula from Entrepreneur to calculate a minimum and maximum allowable marketing budget based on your company's revenue and sales markup. As a general guideline, a low-end budget will be 10% of your projected annual gross sales, multiplied by your average transaction markup. A larger, yet reasonable budget would be 12% of sales, adjusted for your percent markup.
Established companies (at least five years in business) should be comfortable in this 10-12% adjusted range. Startups may need to ramp up spending beyond these bounds for the first several years to help establish and market their brand.
If you need to cut back the budget based on these calculations or a discussion with your executive team, try to set goals and prioritize items by highest impact and long-term payoff. Vet items against one another based on their value to your business goals, and do not make reactive choices based on short-term resource issues. In addition, be careful not to cut out anything that seems small but may derail the effectiveness of higher priority items.
Example: While crafting our 2016 marketing plan, we almost decided to cut back on producing new case studies for our website. Since we have published more case studies than many of our competitors, this seemed like a logical place to reduce efforts for the time being. One of our high-priority goals for the year, however, was updating print collateral and industry-specific sales materials. As part of that initiative, we want to showcase a wide variety of clients, project types and industries beyond what we have already published. Additionally, there is a constant push in our industry to share recent work. For these reasons, we decided it was worthwhile to continue writing case studies.
How to Proactively Manage Common Challenges
Evaluate your resources to identify any issues that could interfere with the success of your marketing plan. This can include budget, production costs, help managing projects or even removing extra people from the process who may create unnecessary hindrances or confusion. Here are several strategies that will help you proactively manage common implementation challenges and avoid future obstacles.
Challenge #1: Getting a realistic inventory of your resources.
Outline what needs to be delivered as well as the time, budget, people or other assets needed. To improve time and budget efficiency, take into account each of your team member's core areas of expertise when assigning tasks. Recognize areas where it may be more cost-effective to partner with an agency rather than trying to bootstrap a solution on your own.
Assign a project manager who can act as the ultimate owner and driver of marketing plan progress. Give them the responsibility and authority to keep the plan on track and on budget.
Challenge #2: Building a schedule that sticks.
To ensure your plan is realistic and achievable, look at your calendar and establish a project schedule upfront. Set clear milestones and deadlines for each tactic to ensure steady progress on your marketing plan throughout the year. We recommend scheduling team check-ins in advance around deadlines for key deliverables.
Expert Tip: In addition to noting the check-in date on the project schedule, book a meeting on your colleagues' calendars so you can reserve time with them before their schedules fill up later in the year. If your team struggles with missing deadlines, set calendar alerts to remind people of their duties a week beforehand.
With many clients, we maintain consistent check-ins and status updates, such as a scheduled weekly phone call, to promote accountability on both sides. You may find it helpful to hold brief weekly meetings with the core members of your internal team to run through updates on active tasks, discuss next steps or review ongoing campaign performance.
Challenge #3: Achieving buy-in from the leadership team.
Besides getting buy-in from the person who will approve your marketing budget, you will want to consult with managers for any resources that you will need, for example, if you plan to utilize team members from other departments (such as designers, writers or developers).
To transform these managers into allies for your marketing plan, bring them in early in the process and clearly communicate how marketing benefits them as well. Do not overlook this step, as managers can provide increased legitimacy and authority to shift the mentality in their department from "I'll get to marketing when I can" to "What can I do to help?"
This buy-in process often requires an education component. Connect your marketing activities to ROI by tracking the path from strategy to tactic. Show how each step helps build a program that leads to a shared business goal.
Plan Your Measurement and Reporting Strategy
An important part of measuring your marketing plan ROI is setting expectations for what can actually be measured. Executives tend to focus on broader business goals and may not understand how specific marketing tactics will move the needle.
As marketers, many of us have been in situations where we have needed to explain how writing content for our website's Knowledge Center or updating the company Twitter account contributes to business growth. Since all of your tactics will connect to marketing strategies, and each of your marketing strategies relates to a business goal, you can leverage these connections to explain how each activity contributes to your organization's broader objectives.
Example: You may have measured how many website leads you need to get in order to close a certain amount of business. Going further down this path, determine how much website traffic typically drives that many conversions. From there, assess how many new pieces of content (or content promotion campaigns) can drive that much traffic to your website. Now you have established a basic connection between your content marketing efforts and new business.
Action Item #1: Use Benchmarks to Set Realistic Goals
As you finalize your marketing plan and develop a reporting strategy, review any data you have access to, such as Google Analytics for website traffic, to develop benchmarks for success.
If your organization has not tracked performance in the past, implement the systems you plan to use as soon as possible so that you can start gathering baseline data. This will help provide context for what goals are feasible and which are perhaps unrealistic.
If you do not have access to previous reports or analytics, we strongly suggest conducting research or a survey to gather intelligence. At the very least, you need to understand your audience, their core needs and buying criteria, and where or how they get information. If you plan to report on less tangible metrics, such as brand perception or customer satisfaction, you will need to establish benchmarks for these as well.
Expert Tip: One way to do this is by conducting "Voice of the Customer" interviews with current and former clients. Inquire about their reasons for hiring you; what they appreciate most about your services; what they would change if they could; or why former clients chose to part ways with your company. Make a plan to follow up annually with another round of interviews to assess any emerging trends and perception changes.
To get the most honest and constructive feedback from customers, partner with a third party research team who can provide participants with a layer of anonymity. We find this elicits a greater level of responsiveness and empowers participants to share more freely, improving your results.
If you do not have the resources to conduct a full assessment with customer interviews, consider utilizing an online tool to survey your customers.
Action Item #2: Include Measurement and Optimization in Your Budget
Build a reporting budget and schedule into your marketing plan. Account for the hours you will need to spend tracking your efforts. Budget for any tools or outside resources you will use to stay accountable.
We also recommend building in hours to follow up and optimize completed initiatives. In order to maximize ROI, you will need to monitor ongoing performance and evaluate the effectiveness of your campaigns. This allows you to make improvements overtime, increase spend on your most successful promotions and halt or update campaigns that have not been as successful.
Reset to Maintain Accountability
To stay on track with our marketing plans, we schedule weekly status reports and check-ins with many of our clients. Internally, we use several online tools to keep a real-time status of our projects. We like Trello for managing editorial calendars and utilize Google Drive to update project statuses on shared spreadsheets.
If you find yourself off track several months into your plan, try these strategies to reset and resume progress on your marketing plan.
Action Item #1: Identify Roadblocks to Success
Write down what your biggest challenges have been so far or why the team has been unable to complete assigned tasks. Reflect on the year to date to avoid blaming one scapegoat or recently surfaced issue for every problem up until this point.
Action Item #2: Determine Your Best Path to Progress
Once you have identified potential roadblocks, consider what kind of effort will be needed to make actual progress. This requires some flexibility. Even if it's counter-intuitive at first, it can be worth it to scrap unfinished projects to start with a new idea that will make valuable progress towards your goal. In fact, it may not be a good idea to stay on the same, derailed track. You might need to refine goals based on emerging market conditions or other changes to your business.
Example: During a period of low resource availability, we shifted focus from content production to the promotion of existing pieces. This strategy allowed us to maximize the ROI for content we had already produced, while reducing strain on our production resources. While this represented a temporary shift in our plan, we were able to reset without losing as much momentum as if we had paused our content marketing efforts altogether.
The Difference Between Flexibility and Distractions
Beware the difference between taking advantage of a new opportunity and destroying your existing process. If you continually change course without carefully considering the strategy behind these changes, you create a cycle of inefficiency. You can refine goals or switch tactics, but always refer back to your marketing strategies and business objectives to guide your decisions.
Action Item #3: Reevaluate Your Resources and Scheduling Options
Occasionally, you may realize that you have tried to do "too much, too soon" in your marketing plan. Especially if you were unable to schedule milestones and assign resources to each task prior to finalizing your plan, you might find yourself faced with a slew of incomplete projects. To reduce the burden on your resources, determine if you can break down key projects into more palatable phases.
Example: If you originally planned to design and develop a new website with advanced interactive features and an in-depth content library, but have not been able to gain traction on a realistic project schedule and launch date – determine the core information and experiences that you will need to go live with the website. After you decide what needs to happen in order to launch, you can start planning updates or enhancements for future website stages.
Make the Most of Your Marketing Plan
If your marketing plan has fallen behind, implement these techniques to reset and reprioritize your tactics. Write down important notes and lessons learned to organize your thoughts and pro-actively plan for the next cycle.
If it's your first time deploying a new marketing technique or measurement strategy, consider the takeaways so far and make smart adjustments based on the first few months of performance. Give each initiative the opportunity to take root, but recognize the point when no further growth can be expected. That channel may be maxed out or just not right for your brand.
A Few More Insights
It might seem overwhelming to begin the process of developing a marketing plan. Hopefully, we've helped identify some ways to build ROI and accountability into your plan. If you need a little help building a marketing plan, we're happy to chat. Here are a few more tips and resources that might help: