Article
Web Typography: 5 Frequently Asked Questions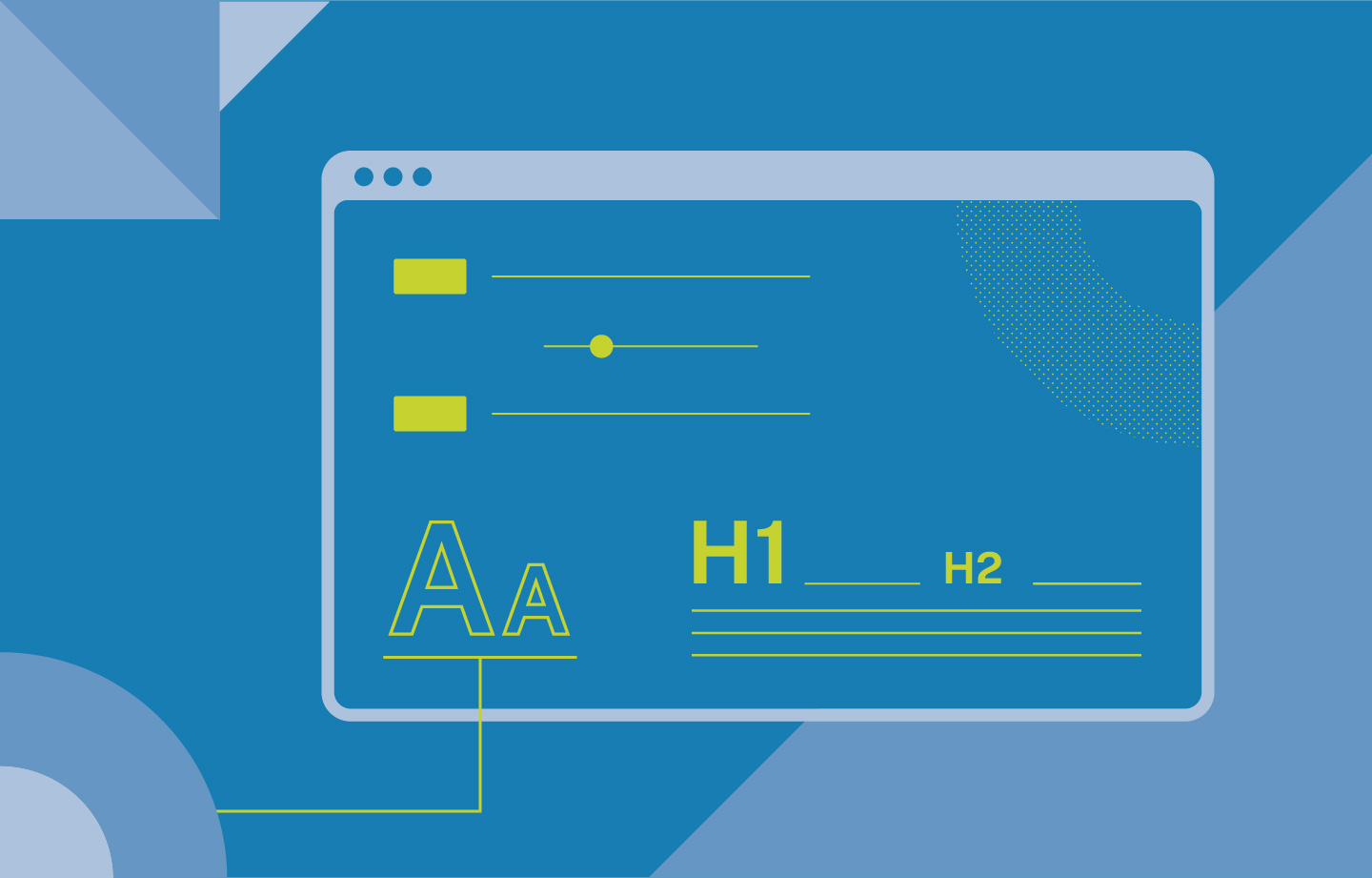 Whether it's an entire site, a banner ad or a landing page, your web typography practices can dramatically enhance or hinder the way the content communicates information through text. Moreover, typography can play a serious role in the identity of your brand and its recognizability to your audience.
To help you start thinking about web typography in your own content, we've outlined some key questions and answers about its importance. Read on to learn how improving your typography can elevate your brand and your work.
Question #1: What is Web Typography?
Web typography, just like print typography, is all about how words convey meaning on the page. Its number one purpose is to enhance, not obstruct, the message. This doesn't mean typography can't have a personality, but that personality shouldn't get in the way of proper communication.
Typography also deals with the many different typefaces you see on the web. Designers put a significant amount of care and attention into choosing typefaces that fit the message and messenger. A given typeface might be picked because it matches the personality of the brand, or functions well with the rest of the website's visual design.
It also encompasses the hierarchy of information on a page. H1s and H2s, for example, convey importance and add structure to the information in websites. They provide a guide for readers to know the order of important information to gather, and make that information easier to parse.
Careful typography practices also keep track of legibility with different colors and typefaces, and make sure that written content can be read by a wide range of people with different abilities.
As a whole, web typography is about the visual design of words on the web. It helps ensure that text effectively communicates a message and supports the identity of a brand.
Question #2: Why is Web Typography Important?
When a reader encounters a piece of content on the web for the first time, their ability to understand and digest the information will rely heavily on the words on the page. Proper web typography practices ensure that the text content is catered to the intended audience and easy to digest, creating a better reading experience.
In an age of endless online content, instant impressions matter immensely, and typography can go a long way towards providing a pleasant experience when reading web content. This experience impacts your brand's reputation, which in turn can help or hinder your long-term growth.
Visual identity also helps your brand stand out from the rest of the noise, and typography is a major part of that visual identity. Identifying the typefaces that represent your brand's written voice instills all of your content with a familiarity that makes you more recognizable.
Web typography is a major part of the overall visual design process, and just like the rest of your design, it carries significant weight in how people perceive and experience your brand.
Question #3: How Does Web Typography Differ From Print Typography?
Typography's importance has been long understood in the print world: with limited space on a page, how you use it can severely affect the amount and quality of information being communicated. On the web, this is equally true, but it has its own unique challenges.
Firstly, unlike in print, web content can be viewed on any number of different devices, each with their own screen size, fonts and other restrictions. That means that typography has to be responsive and maintain legibility even when users are reading it from the device of their choosing.
Web typography is also unique in that it has to keep up with advancements in technology. Best practices for web typography in 1995 are nowhere close to what designers use today, so teams that design for the web have to constantly stay on top of evolving technologies (as well as user habits) to make sure their content is still up to par.
Similarly, web design has its own language for elements of typography, due to the nature of HTML. What print designers might call a headline or subhead would be an H1 or an H2 on the web, so web designers have to be able to navigate these terminological differences and understand how artistic design interacts with the backend of web design.
The good news is that web typography offers a wider range of options for legibility and typefaces than are typically available for print. Because web type can be intricately refined with exact color combinations, spacing and fonts, it's opened endless possibilities for artistic and functional typography practices.
Question #4: How Does Web Typography Impact a Brand?
As mentioned above, typefaces make up a significant portion of a brand's visual identity. Choosing the right one requires research into what a brand represents and how it wants to portray itself.
In technological or scientific fields, many brands use sans serif typefaces to convey a cleaner modern look. But sometimes, following industry typography trends can cause a brand's look and feel to blend in with the rest. Balancing the goal of standing out from competitors while maintaining a certain style is a delicate process that hinges on what a brand's visual priorities are.
Beyond personality, however, typography's function can go a long way towards expressing your brand's commitment to customers. If written content is easily legible, follows a clear hierarchy and is easy to digest, readers will walk away with a stronger impression of your brand.
Legibility in web typography is an indication of your website's usability to customers, and when your products are more easily usable, customers will be more likely to come back. Thoughtful typography expresses an attention to detail that readers notice and appreciate, which will elevate their perception of your brand.
Question #5: Where Do I Start?
Before anything else, designing typography for the web requires research like any other product. Looking into current visual design trends and legibility standards is always key, but research also involves brand research to determine what type of look and feel typography should express.
Web typography is also a pretty interdisciplinary topic: it requires the cooperation of both designers and developers to ensure that written content meets visual brand standards while remaining functional and communicative. That means that designers should have a basic understanding of how type functions of the web, and vice versa.
At BrandExtract, our team of expert designers and developers work together to build top-tier digital brand strategies. After comprehensive market research, we optimize the look and feel of a brand's typography to meet customer needs, whether it's on a website or app.
Typography is just one important element out of a suite of details that express your brand on the web. With every typographical detail aligned with your brand goals, you'll be able to make a bigger impact in every word you write.
A Few More Insights
If you're looking for a way to enhance your brand's digital footprint, reach out to us. For more insights into a brand's digital presence, explore these other articles from branding experts: