Best Foot Forward
Crestwood Equity Partners LP had established their first-ever sustainability department several years ago, which was hard at work evaluating the company's performance on environmental, social and governance standards. But to further incorporate sustainability into their business and their brand, they needed a way to tell their story to customers and stakeholders. Enter BrandExtract and ESG Reporting Partners.
As one of the first companies in the midstream sector to pursue sustainability reporting, Crestwood needed a way to communicate all of its data easily and visibly. Using Artisan, ESGRP's reporting platform, we built both web and print versions of the report, allowing Crestwood to tell their story using dynamic graphics and interactive features. The report elevated their transparent relationship with stakeholders, and positioned Crestwood as an innovative thought leader in ESG reporting.
Website

Location

Spring, TX

Industry

Services Offered

Strategy
Branding
Marketing
Digital
ESG Reporting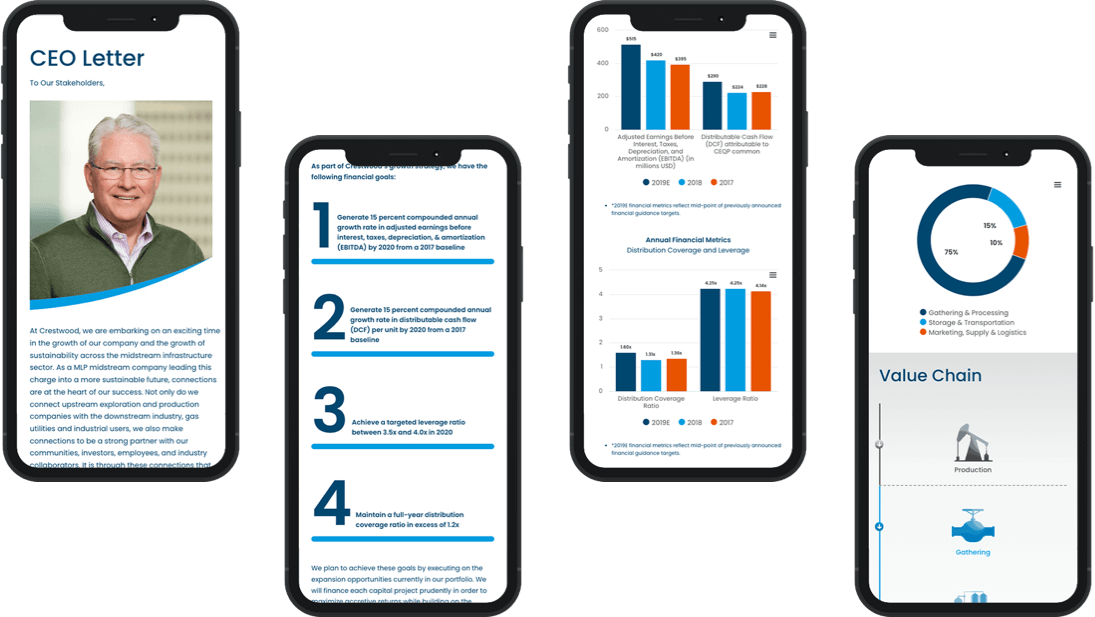 At The Forefront
We started by assessing how ESG reporting built upon Crestwood's powerful brand: As leaders in the midstream industry, they had the opportunity to be a major force for growth and change among peers. Building on this idea of growth, we developed the fresh look and feel of the inaugural report, along with its theme, "Growing Through Connections." We wanted Crestwood to have a cutting-edge report that allowed for flexible adjustments, and using Artisan, we did just that.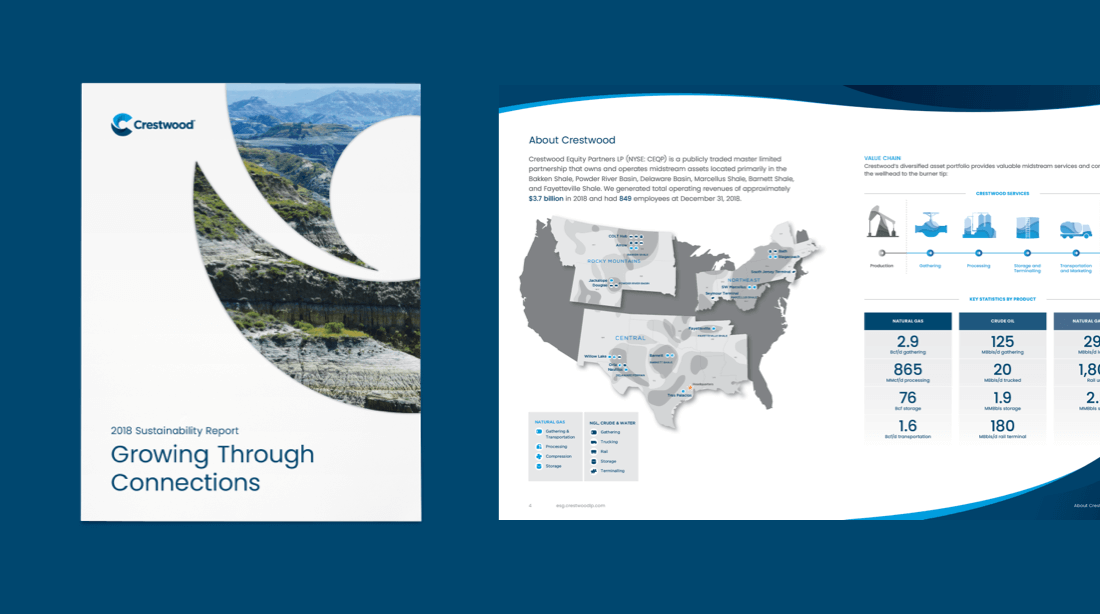 Coordinating Consistency
Using the data Crestwood had collected, our team got to work creating in-depth content outlines that told the story of Crestwood's pursuit of sustainable growth. This included vision statements about the future of the company, explanations of their approach to ESG, and case studies reflecting the massive amount of effort that went into improving environmental procedures. We carefully maintained visual and stylistic consistency across the web and print versions of the report to ensure that both versions contributed to a strong unified message. Each year the story grew and the report site was expanded to include new features and functions through the ESG RP technology platform.



The Whole Story
Equipped with a comprehensive website to report their results, and a white paper highlighting their key outcomes, Crestwood could proudly display all their hard work in ESG strategy and data collection. ESG RPs technology platform allows viewers to download data in their preferred formats and view charts in a dynamic manner. The company told the story of its growth over the previous three years, highlighting where they had made major progress in emission reductions and risk assessment. The site also communicated specific results via highly informative slickly-designed infographics, animation and video, and communicates vast amounts of data in digestible formats for stakeholders.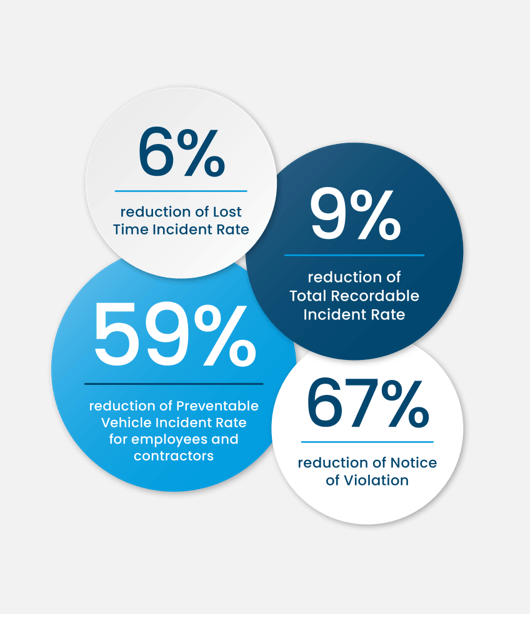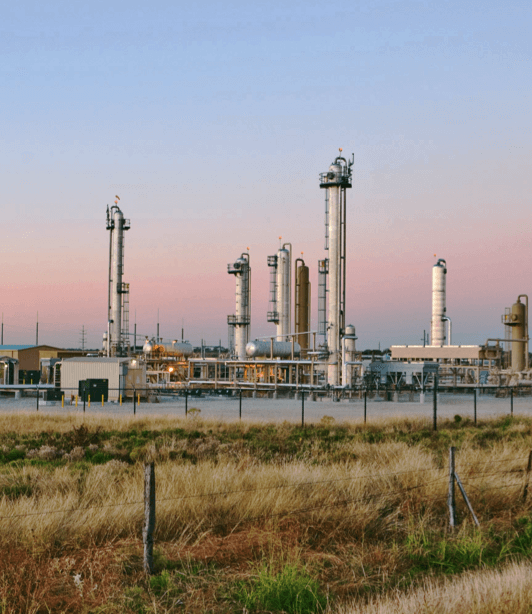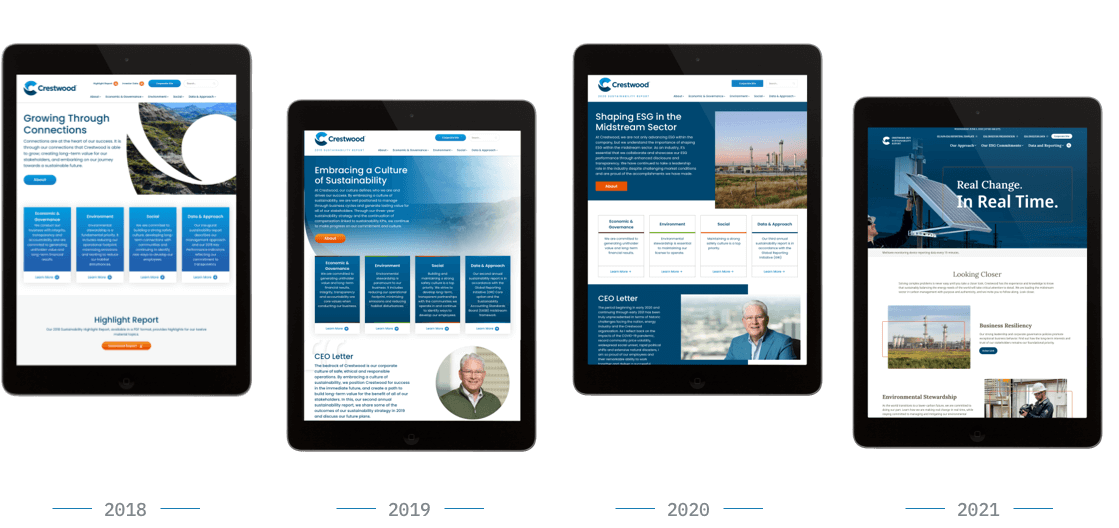 Taking the Lead
The final versions of the digital and print reports reflected a bold midstream industry leader ready to take on serious challenges in ESG. It became a flagship platform for expressing Crestwood's long-term commitment to growth and sustainability, and communicated a transparency towards stakeholders that strengthened Crestwood's brand integrity.
Using what they learned from their inaugural report and user trend tracking, Crestwood has refined and innovated upon their reporting strategy each subsequent year. We've continued to partner with them in their reporting process every year since, and together we're bringing their ESG strategy to life. Crestwood is now an industry leader in both their corporate and ESG strategies, and their success elevates the standard of ESG reporting among their peers.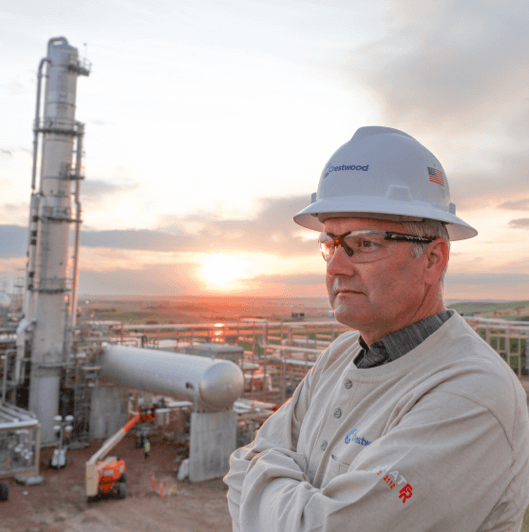 Results and Outcomes
Communicated
Crestwood's brand vision for sustainable growth
Expanded
transparency for stakeholders with a comprehensive report
Established Crestwood
as an industry thought leader for sustainability