A Convenient Story
When Stripes came to BrandExtract, the company had been operating for years under the national convenience store brand Circle-K. The company was leaving the brand and about to make its own way in the world. Company leadership had first tapped an architectural firm to develop the new brand, but the pilot results were missing the mark. Enter BrandExtract. We helped Stripes develop and launch a differentiated brand, resulting in 98% recall and an eventual IPO.
Location

Corpus Christi, TX

Industry

Services Offered

Strategy
Marketing
Branding
Advertising
Our Strategy in Action
Gearing for Growth
No longer a franchisee, Stripes was free to pursue its own destiny. Achieving its growth goals would solely be in the hands of company leadership. It was an exciting time. Stripes itself would need a new brand, but the company also had several sub-products and sister store brands such as Laredo Taco, Slush Monkey, Icebox and others. The entire ecosystem needed to be updated. The company had a growth strategy and the beginnings of an action plan, but it needed a brand strategy to align with those plans and put them into action.
Stripes brands and subbrands being showcased in a slide show
Play video
Road Scholars
To lay the foundation of our strategy work, BrandExtract conducted field assessments to experience the brands up close and personal. We visited Stripes stores across the company's multi-state network, and competitor convenience stores to truly understand the competitive dynamics of each micro-market. We talked to target customers and analyzed every brand and sub-brand in each locale. We discovered what differentiates Stripes, and what its advantages and challenges were. Armed with critical knowledge, BrandExtract built an astute strategy and put it to work.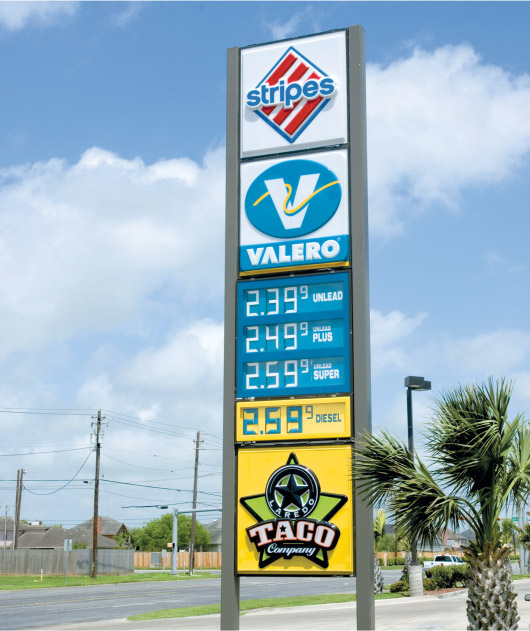 A few selected pages of the Stripes brand standards guide compiled into a video slideshow
Play video
Let's Get Real
The first step in the strategy was to position Stripes to fit the true character of its offering. Our research had told us that what Stripes had, and what customers want, is speed, quality and a pleasing experience. A new positioning was born – fast, fun and delicious. This immediately breathed life into Stripes and gave it human qualities, which is something the brand had always lacked. From there we built the company's entire brand architecture to reflect this positioning.
Play video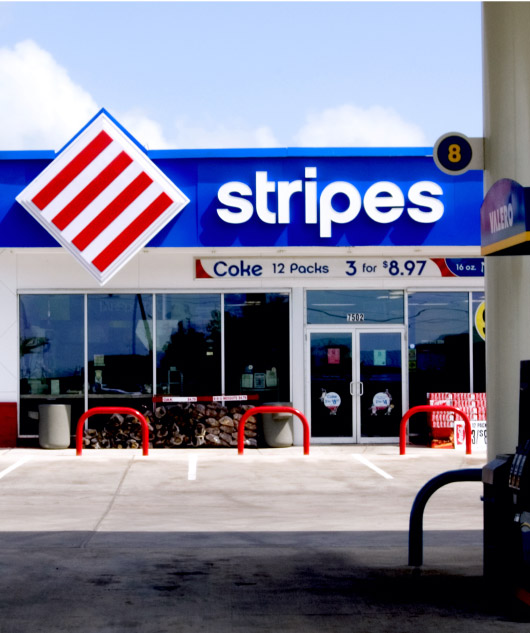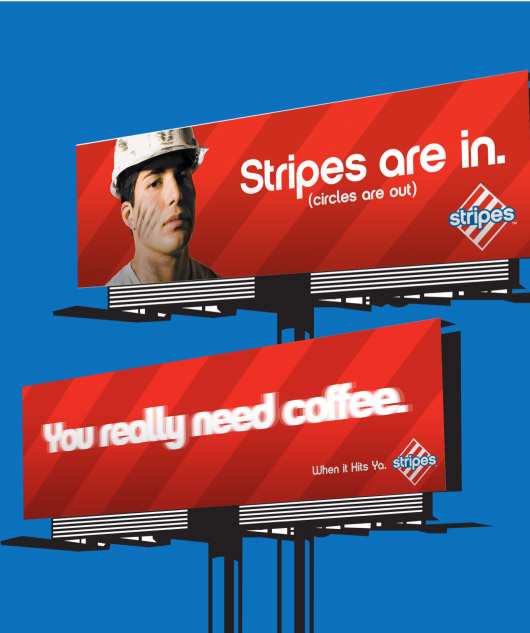 Looking Good in Stripes
Success in gas station retail hinges on the store-visit experience. We developed every detail for Stripes, so customers would have an engaging, consistent and satisfying encounter with the brand, from the time they see the highway billboard to the moment they approach the cash register. We designed everything: store layout, window clings, POP signage, gas pump toppers and much more. We also simplified the customer purchase process, accelerated the queuing and featured premium best sellers.
With the stores set up and ready for action, it was time to tell the world. We launched a series of advertising campaigns (radio, TV, social, guerilla and more) in Spanish and English to signal the breakaway from Circle-K and tout our fast, fun and delicious new spirit. From growing day part sales to customer outreach at beach promotions to community awareness with little league sponsorships the Stripes brand dominated markets, was highly distinctive and very visible for multiple buyer use cases.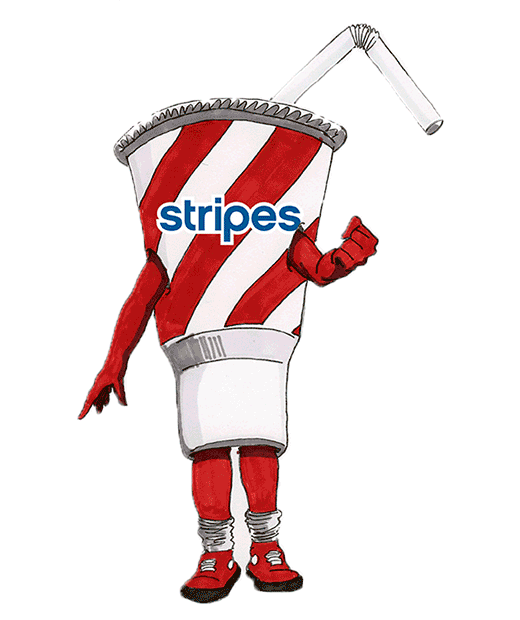 Results and Outcomes
40%
sales increase the year of brand launch
$3.3 billion
selling price to 7-eleven