News
Building Websites, Rebranding Clients, Marketing Non-Profits & Winning Awards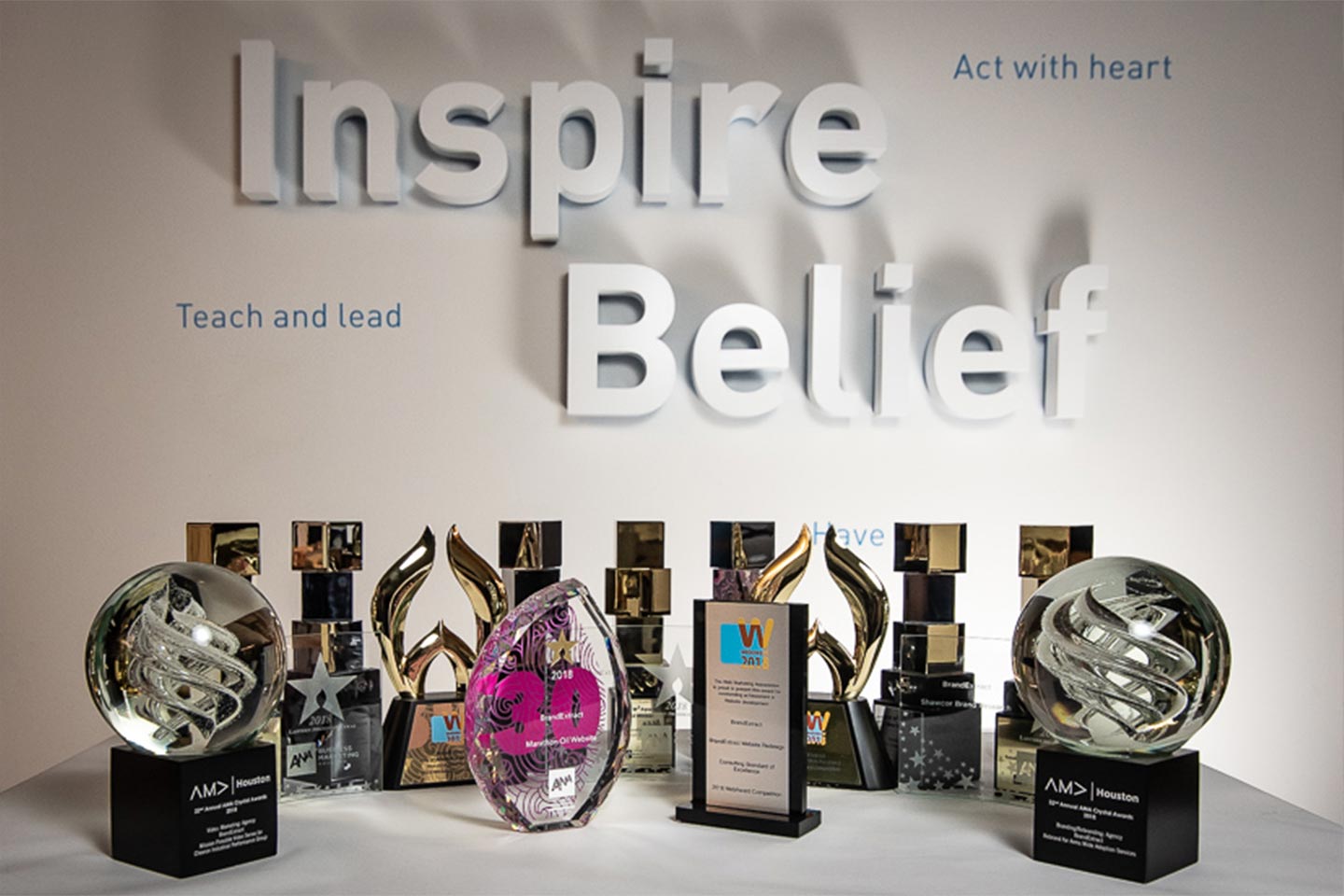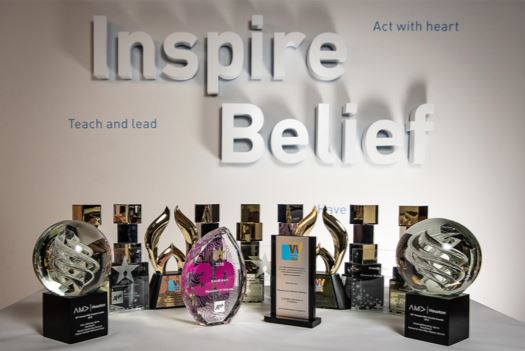 The last quarter of 2018 offered numerous opportunities for BrandExtract and our team to help clients and our community. We launched multiple websites across various industries, assisted non-profit organizations, and were recognized with multiple awards for client work. Explore all of the work we did, and learn about our plans for the future.
BrandExtract Takes Home Awards From WebAwards & W3, and a Lantern Award From BMA Houston
BrandExtract enjoyed high praise last quarter, earning several awards from the W3 Awards, Web Awards, and BMA Lantern Awards.
The W3 Awards
The W3 Awards honor excellence in websites, web marketing, digital marketing, and mobile marketing and is accessible to both large and small businesses, including Fortune 500 companies. BrandExtract was rewarded for our work on seven websites, taking home 3 gold and 4 silver awards.
Gold Awards - General Website
Silver Awards - General Website
Silver Award - Visual Features
Chevron Video Series - Effects/Motion Graphics
The Web Awards
The Web Awards is an open competition for all organizations and individuals who develop web sites for companies, organizations, or government institutions. We received a Best in Industry Award for our work on the Out2Learn site, along with 5 other awards of excellence.
Best in Industry
Awards of Excellence
Tubular Solutions - Outstanding Website
Chemstation - Software Standard of Excellence
BrandExtract - Consulting Standard of Excellence
Marathon Oil - Outstanding Website
Millar OEM - Medical Equipment Standard of Excellence
BMA Lantern Awards
BMA Houston created the Lantern Awards to honor creativity and strategy in B2B communications. BrandExtract earned 4 Awards of Excellence and a Lantern Award for our work on the following websites.
Lantern Award
Awards of Excellence
Oceaneering - Mission, Vision and Values Video
Chevron Industrial Performance Group - Mission Possible Video Series
Shawcor - Market Research
BrandExtract - Website
---
BrandExtract Launches New Websites for Pioneer Bank, TEI, and Western LNG
This quarter BrandExtract launched three websites for our clients; one for Pioneer Bank, TEI, and Western LNG.
Pioneer Bank Internal Brand Site
For Pioneer Bank, we built pioneersarecurious.com. This new site was internally focused; designed to re-energize and realign employees with the revitalized mission, vision and values. To do this, BrandExtract developed a teaser email campaign, created case studies, and even designed and produced special temporary tattoos for town hall meetings about the rebrand.
TEI Website Refresh and Migration
TEI came to BrandExtract after their web platform no longer supported their website. To help, BrandExtract transferred their presidential forums and info to a new site, TEI.net. We also updated the UX, designed better visuals, and made the interface mobile-friendly.
Western LNG Web Launch
When Western LNG needed to increase the visibility of their brand, they enlisted our help in building a new website and logo. The goal was to increase visibility and brand recognition for Western LNG. Their aim was to be recognized as the liquid natural gas industry's leader in safety, reliability, and impact on the environment. Through collaboration and hard work, the end result was WesternLNG.com.
---
BrandExtract Combines William Scotsman & Modspace to Form WillScot
In October of 2018, BrandExtract undertook the rebranding of Williams Scotsman into WillScot, after they acquired long-time competitor, ModSpace. With this merger, BrandExtract was tasked with not only rebranding the site but also combining the former competitor's sites with that of Williams Scotsman.
We helped consolidate the two former companies' offerings into one new, comprehensive web experience, including the Canadian and French Canadian versions of the site. Our team also helped rebrand existing collateral, integrated new staff and facilities, consolidated locations and updated existing PPC campaigns to incorporate the new brand. This was topped off with a launch event held on October 14 in Phoenix, Arizona, that BrandExtract helped coordinate. For the event we assisted in choosing the venue and designing the graphics, decrocations, and swag for attendees.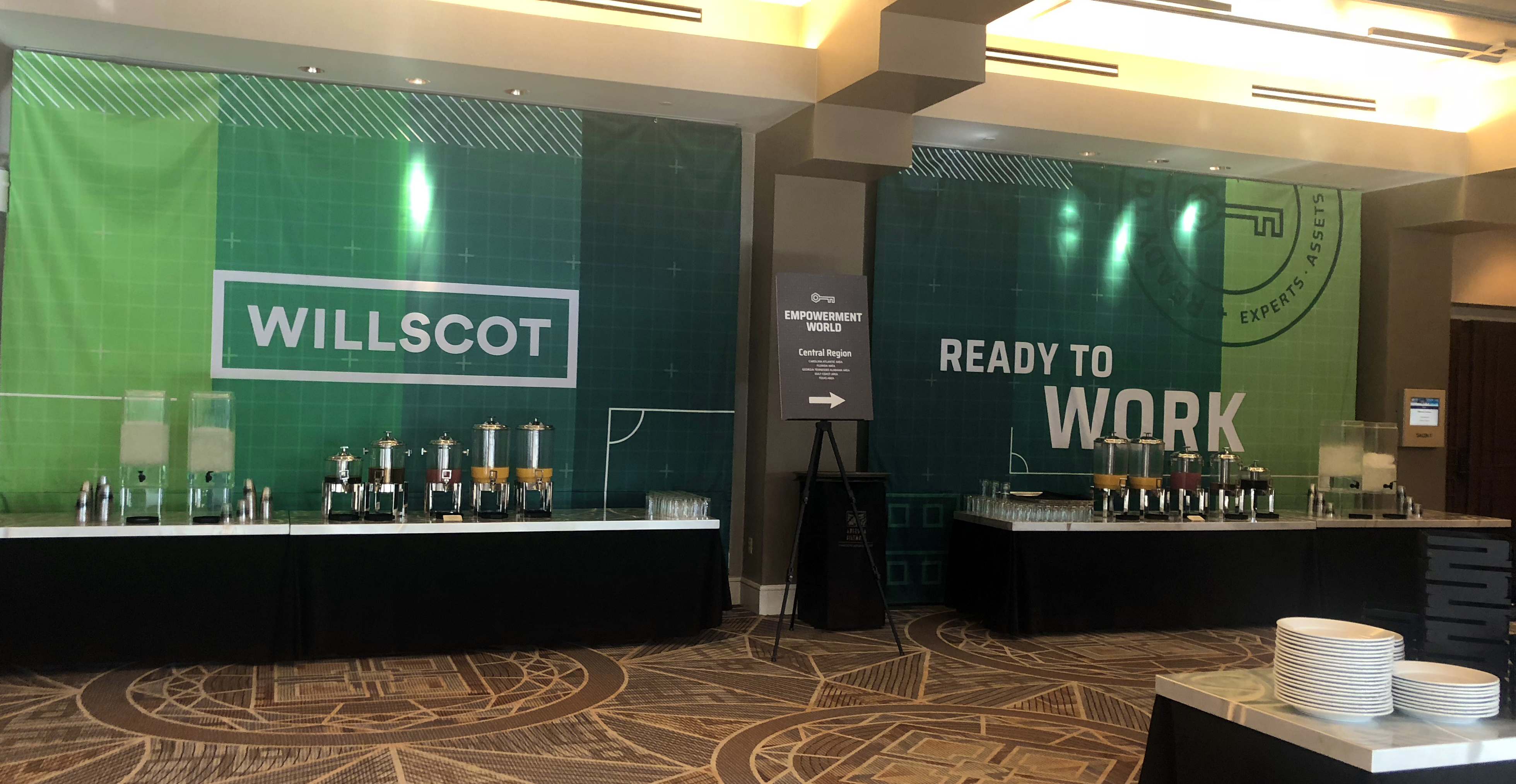 ---
BrandExtract Kicks Off Arms Wide Adoption Marketing Strategy
This quarter, BrandExtract developed and launched a new search marketing strategy for Arms Wide Adoption Services. Arms Wide Adoption Services is a non-profit organization dedicated to finding safe and nurturing adoptive homes for children in need.
Having worked with them on their rebrand in 2017, we were excited to help bring their brand more visibility. The 6 month plan that we developed included standardizing their NAP (name, address and phone number) information across the web, creating a keyword strategy, and developing PPC campaigns and new landing pages for their paid search advertising.
So far, initial results have been very promising, and we're excited to see the Arms Wide Adoption brand flourish in the coming year.
---
BrandExtract Helps Make a Difference Through Media Relations
In October, Prolanthropy and the Kareem Jackson Foundation held its "Dinner for Difference" charity event to raise awareness for breast cancer. The Kareem Jackson Foundation, started by Houston Texans defensive back, Kareem Jackson, works year round promoting events all across Houston that support women and families affected by breast cancer.
To help prepare for the dinner, we worked with local media to help raise awareness of the event and facilitated media relations during the festivities. During the course of the evening, guests were pampered with massages and spa treatments, enjoyed cocktails, a gourmet meal and shared stories about their fights with breast cancer.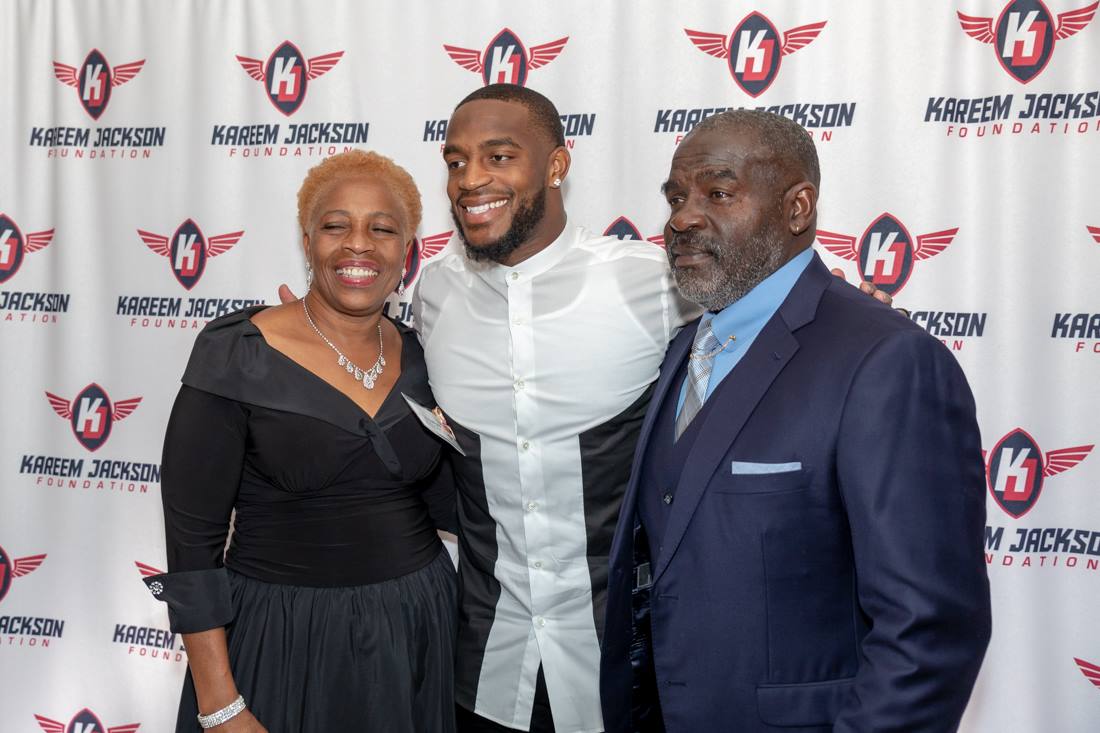 ---
BrandExtract Learns "WHEN" Through the BE Book Club
This quarter, BrandExtract read Wall Street Journal #1 best seller, "When: The Scientific Secrets of Perfect Timing," by Daniel H. Pink. In "When" author Daniel Pink explores notions of timing not as an art form, but as a science. Using psychology studies, economics, and even biology, Pink suggests better practices to improve society's use of time.
We held discussions on how to apply Pink's practices to improve our time management skills. Each employee had a choice of choosing a hard copy, e-reader, or an audio book, which BrandExtract provided. By the end of the book, everyone found new ways to improve their work habits, and increase productivity.
---
Looking Ahead: BrandExtract in 2019
Closing out 2018, BrandExtract enjoys a week off for the holidays. This annual tradition gives us the opportunity to recharge our batteries and hit the ground running on what promises to be a fantastic 2019 for our business and clients.
In the new year, there will be no shortage of opportunities for BrandExtract and our team to continue impacting our clients and our community. In the first quarter, we are slated to rebrand with Knight Energy Services, starting with updating their logo and stationery portfolio, as well as kickoff a new brand identity project for TreeTown USA.
In February, BE's senior designers are heading to the First Round Design Conference in Austin, Texas. While there, designers will have the opportunity to showcase their first-round presentation process for presenting initial designs and logos for clients.
We're excited for the new year, and look forward to showing our grit for the new challenges and opportunities to come.