Article
Sales Funnels Aren't Dead, Just Different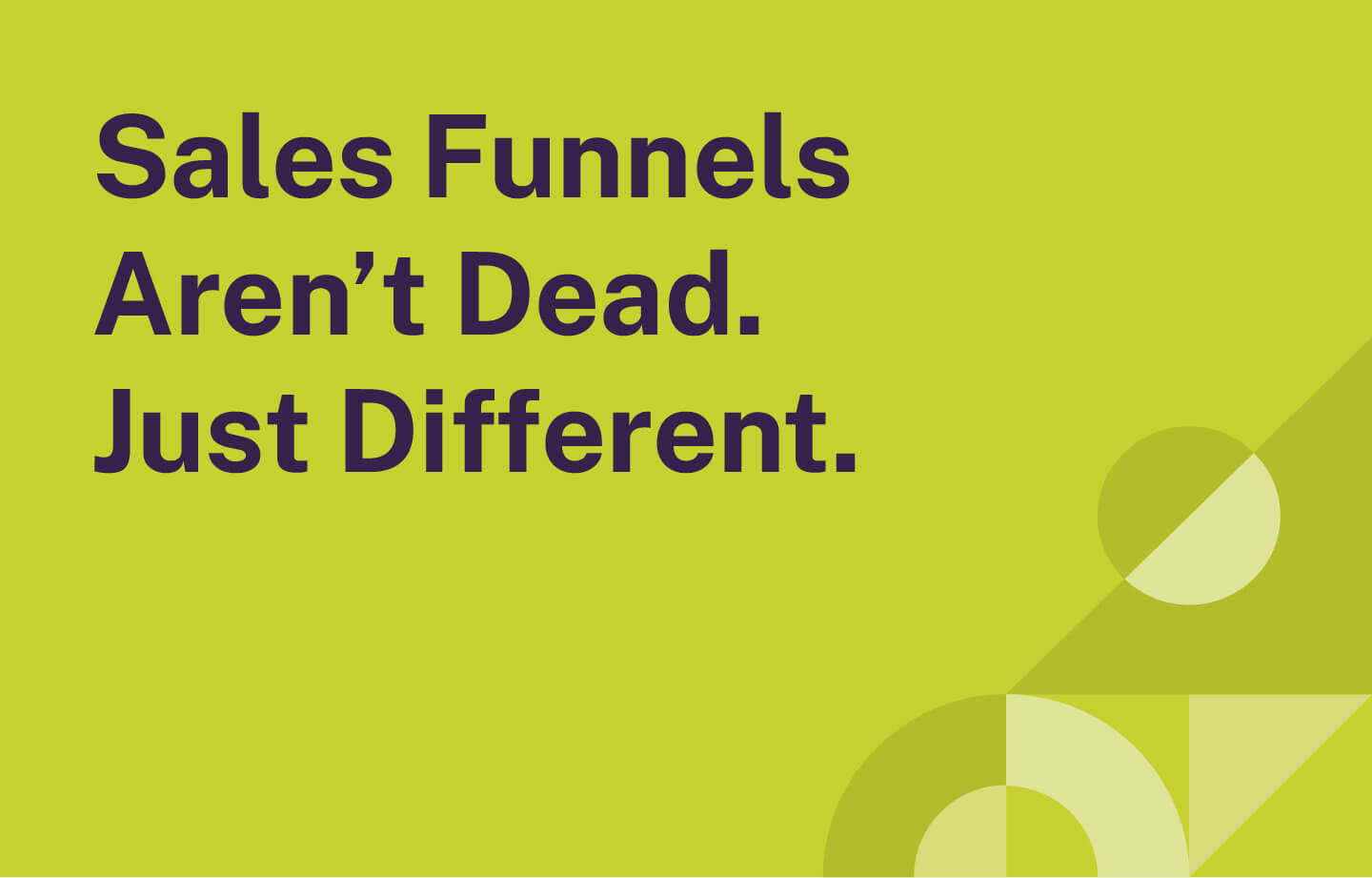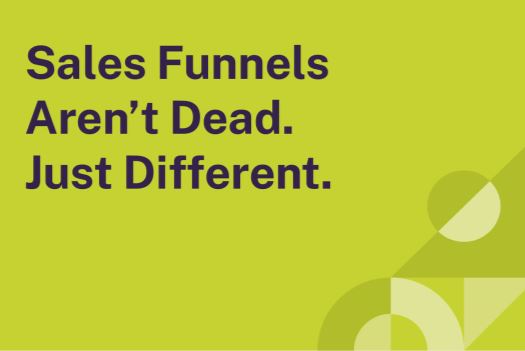 I've frequently heard that "sales funnels are dead," in blogs, emails and across my social feed. Not long ago, I attended the American Marketing Association (AMA) Houston's Academy program entitled "Sales Funnels are Dead". At the event, HubSpot strategist Sam Hirbod gave his pitch for why sales funnels are dead. And since I work with sales funnels every day (BrandExtract is a HubSpot Partner, after all), I left with several conflicting thoughts.
My belief: Sales funnels aren't dead. They're just different.
In this blog, I'll recap the keynote speech, why the speaker thinks sales funnels are dead, and my argument for why sales funnels aren't dead. Let's get into it.
About Sam Hirbod
HubSpot Principal Inbound Agency Strategist Sam Hirbod has coached over a thousand companies in the public and private sectors, helping them grow better by translating business cases into sustainable action plans.
Let's back up and recap Sam Hirbod's thoughts on the need for B2B marketing to evolve. Here are some key messages Hirbod discussed.
We need to rethink how we market, sell and serve our customers.
Before the Internet, content was gated. But with the Internet, we have unlimited content options.
Today, few aggregators control flow of info (Google, Facebook, etc).
Now, we expect curated options and personalized experience.
Marketers must adapt to the ways customers want to engage. Be authentic in how you approach people to anticipate their needs.
Hirbod's solution is straightforward. Engage whenever the audience is ready and adapt to the way people want to engage with your company. Then, we must anticipate their needs – not asking the same questions, but using what we know about them to provide the content their looking for.
To engage, we must be omnipresent… or as Hirbod puts it, Omnichannel – giving a consistent communication journey across every medium, where the conversational history and context is consistent from channel to channel.
This is where the sales funnel is challenged. The traditional sales funnel can't meet modern audiences' needs for engaging, adaptable and anticipatory content. That doesn't mean the sales funnel is dead. No, it just needs rejuvenation. Enter the flywheel.
Flywheel Model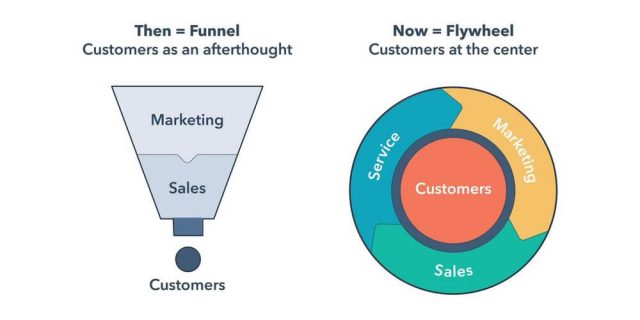 See the big difference here? Service is injected into the funnel. The flywheel model was introduced by Jeff Bezos and Amazon, then expanded upon by HubSpot co-founders Brian Halligan and Dharmesh Shah. They understood that today's sales process isn't a straight line from marketing to conversion. The process is messy. It's chaotic.
Just like we discussed earlier, the customer takes a multi-pronged approach to digesting content and interacting with a brand. So this flywheel graphic shows that whether you're in sales, marketing or service-mode, each interaction focuses on the customer. Specifically, what the customer is searching for.
But why add service? Because that's the part of your business that delights current customers. It's what makes them so pleased with your offering that they share it with family and colleagues through the most effective form of marketing – word of mouth.
Think back to when you first heard about Netflix or Amazon. Did you stumble upon it yourself, or did a friend or coworker tell you about a new service that delivers what you what, to your door (and in Netflix's case, right into your living room)?
Now, in theory, the flywheel model sounds good. But that's just theory. That is until we look at what this new sales funnel looks like in action.
User Experience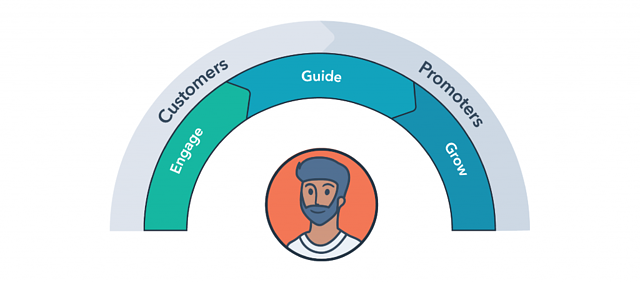 A standard (read: outdated) tactic for categorizing a website is to organize the site architecture linearly. New users visit the home or about us page, whereas people 'down the funnel' would land on a product page.
Instead, we should use personalization. If a user returns to your website, wouldn't it be better to show content that's customized to their interests? Rather than showing your block-and-tackle value proposition, you can now present more relevant content related to their interest and the previous actions taken on your website. Or, instead of blasting out an email with generic information and offers, send hyper-specific content to individual buyer personas, allowing you to offer more relevant content. Personalization is perhaps my favorite feature of HubSpot's inbound marketing software.
Lead Nurturing
Traditional lead nurturing tactics also take a linear approach. Often, you'll find single drip campaigns with an established series of messages.
The Flywheel model will adapt this by using workflows – essentially nurturing streams that people can enter or leave, all based on their behavior and engagement with your content.
So, if 25% of your website visitors just want to download data sheets, create a workflow that primarily delivers data sheets. If another group only engages with limited-time offers and special discounts, focus on those.
User behavior signifies interest and intent. When you know those, you can provide people what they want, and ultimately, when they want it. That doesn't just improve marketing and sales, but also our new addition to the sales funnel – service.
The Truth About Funnels
So, sales funnels aren't dead. They're not even dying; they're evolving. Sure, it's not a simple, straightforward process anymore. Yes, people engage with a brand on multiple channels before buying. But that's diversification, not death.
Remember, the sales funnel isn't new. It was introduced back in 1898. And just like the ways we communicate has evolved, so has the way we digest content.
That's why we have to start thinking about people, not just platforms. We must broadcast clear messages across a suite of platforms, so wherever people are, whatever their choice of app may be, we're there.
Sounds tricky, but with the right data, we can identify where we need to be, and what we need to say.