Growing Stronger
Since 1850, ManhattanLife had provided health and life insurance to help policyholders live their best lives. After some high-profile acquisitions, the company was looking for ways to communicate their contemporary value proposition, both internally and externally. That's where we stepped in.
Our team drew upon ManhattanLife's storied history and independent persona to reintroduce them as a reliable partner for policyholders and their loved ones' health, wealth and security. Their new website, logo, tagline, positioning and messaging allowed them to capitalize on their recent growth and display leadership in their industry.
Website

Location

New York, NY

Industry

Services Offered

Strategy
Branding
Marketing
Digital
A Legacy of Coverage
Despite ManhattanLife's long history of serving policyholders with commitment and integrity, their original website didn't represent their
172 years of quality coverage and service. Now that they were expanding nationwide, it was a perfect opportunity to tell the company's story and raise brand awareness.
Our team got to work facilitating discovery sessions, focus groups and
one-on-one interviews with key influencers and subject matter experts
to determine the core identity of ManhattanLife's brand. These sessions spanned from key brokers to executive leadership, and informed our approach to communicating the company's unique mission and value proposition in the industry.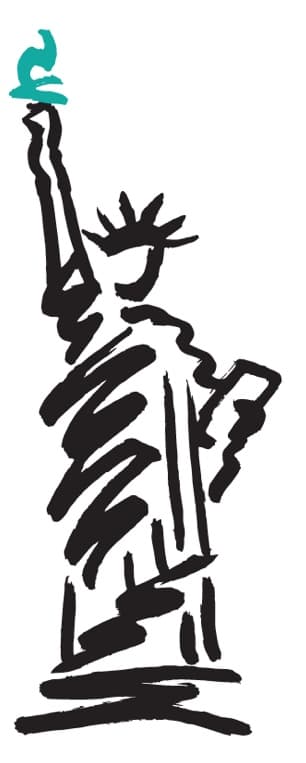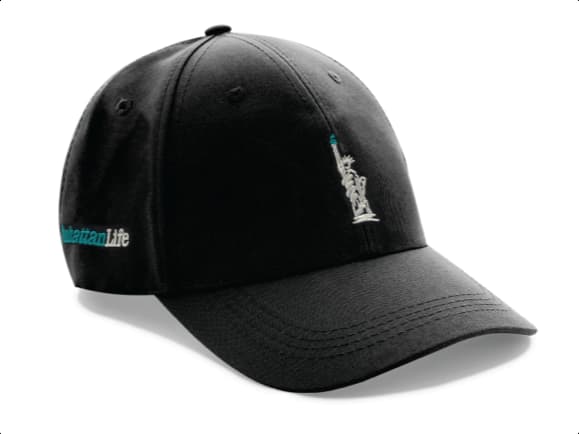 Standing By You
The new ManhattanLife logo prominently featured the Statue of Liberty as a symbol of reliable integrity— as well as a testament to the company's New York roots. The new brand further emphasized this commitment to policyholders with a new tagline, "Standing by You. Since 1850." We then rolled out an integrated marketing program that launched with a vibrant new website featuring custom illustrations, product videos, a brochure system, PPT presentation, a corporate brand animation and more.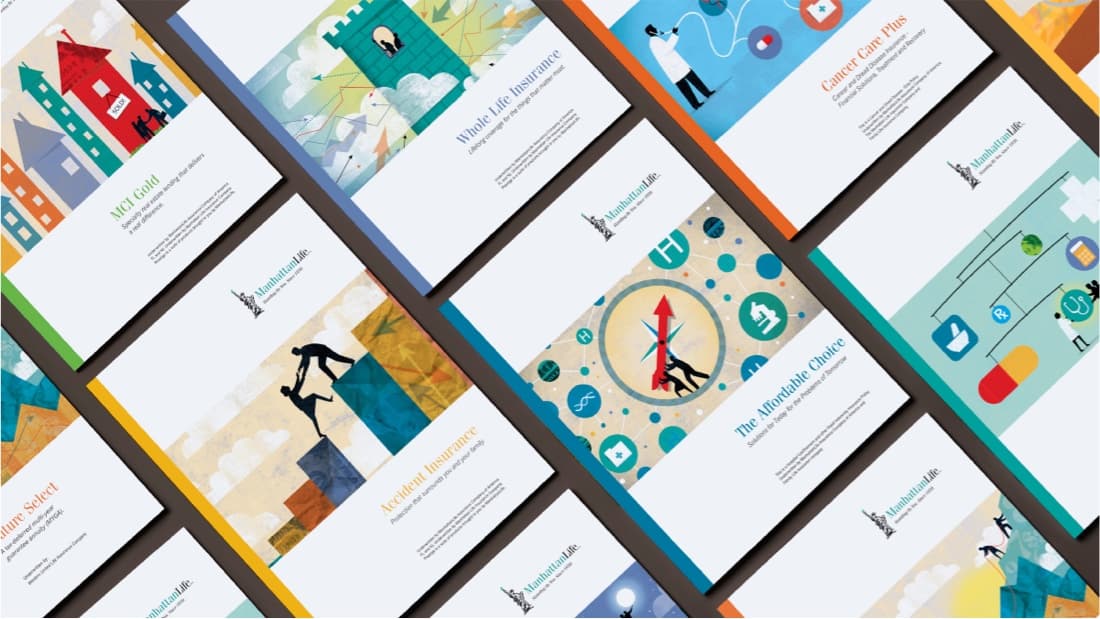 The Industry Independent
ManhattanLife's new website proudly chronicled the company's history, complete with timelines recounting landmark moments and achievements from 1850 to the present day. It also showcased ManhattanLife's privately-owned independent structure, authentically reflecting the company's promise to care for policyholders' needs before all else.
Spreading the Word
Because ManhattanLife primarily sells their policies through brokers, they also needed a comprehensive internal marketing campaign to introduce brokers to the brand and empower them with renewed support. Through an extensive HubSpot email campaign, we promoted a broker-focused microsite that provided sales tools such as elevator pitch cards and brand stories, plus promo materials like hats, mugs and polos to build enthusiasm for the new branding.
At our core, ManhattanLife is a reliable, independent insurance company rigorously focused on providing policyholders with the life affirmations of health, wealth and security. The rebrand of our company was an insightful process and tremendously gratifying in that
our new identity and tagline authentically reflect our legacy and who we are today."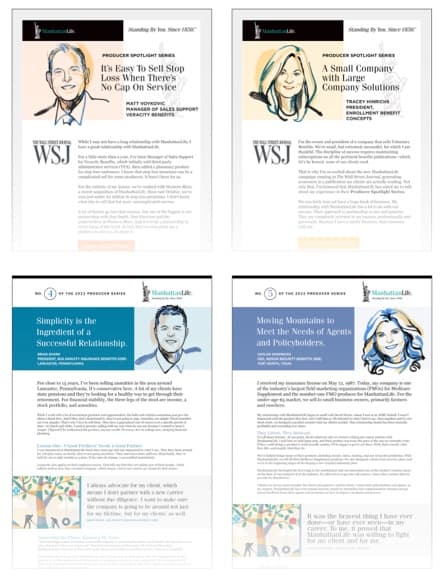 Seizing the Day
Equipped with a refreshed brand identity and a polished website, ManhattanLife was ready to continue their explosive growth with newfound purpose. The re-energized brand displayed an insurance company with an unmatched history of providing coverage and reliable service for their policyholders and brokers. With a complete and authentic identity that communicated this promise, ManhattanLife was more than ready to seize the opportunities ahead of them.
Results and Outcomes
Clarified value proposition
and identity
Consistent internal and
external brand messaging
Awards
Positioning Profile
2021 AMA Crystal Awards
Best of Category in Branding
2020 AMA Crystal Awards
Branding Campaign
2020 AMA Crystal Awards
Best of Category in Microsites
2020 Addy Awards
Gold: Illustration Series
2020 Addy Awards
Silver: Producer Microsite
2020 Addy Awards
Bronze: Integrated Rebranding Campaign
2020 Addy Awards
WSJ Producer Awareness Campaign
2021 ANA Lantern Awards
Best Agency: WSJ Producer Awareness Campaign
2021 ANA Lantern Awards
Certificate of Excellence for the
Positioning Profile
2021 ANA Lantern Awards