Built for the Community
Marathon Pipeline wanted to do more than speak of its commitment to safety, reliability and accessibility – it wanted to embody these values in its community interactions, all the way to the digital level. So they enlisted the help of BrandExtract.
Inspired by Marathon Pipeline's core mission to "safely and reliably operate pipelines to deliver the petroleum products that you use every day," we developed a digital solution the industry had never before seen. We designed and built a Pipeline Finder app and website to offer communities living along the company's pipelines state-of-the-art digital resources, setting a new standard for safety that Marathon Pipeline audiences eagerly plugged into.
Website

Location

Findlay, OH

Industry

Services Offered

Marketing
Digital
Strategy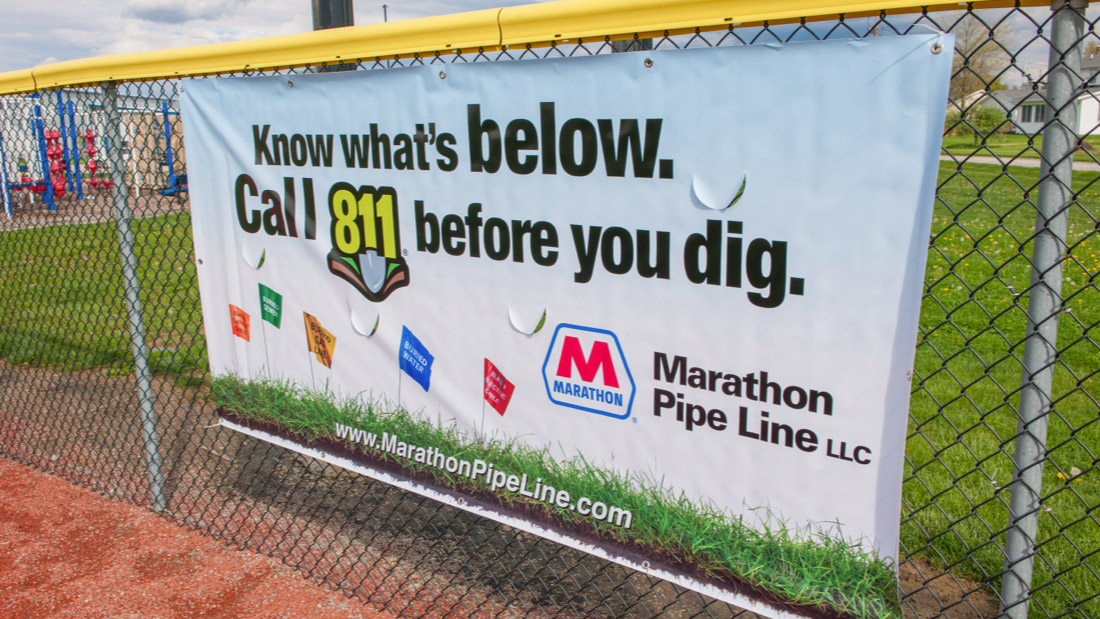 Putting People in Control
Prompted by our long-standing relationship with Marathon Petroleum, Marathon Pipeline came to us with big challenges. How could we empower communities to take charge of their own safety? How could we increase awareness and accessibility? How could we modernize its interfaces? No pipeline company had ever considered a commitment at this level.
Naturally, we were energized by the wide-open possibilities, and together our teams came to envision a digital app and website that would revolutionize how pipeline companies supported their surrounding communities. Then we set to finding the best way to develop and deploy these innovative tools.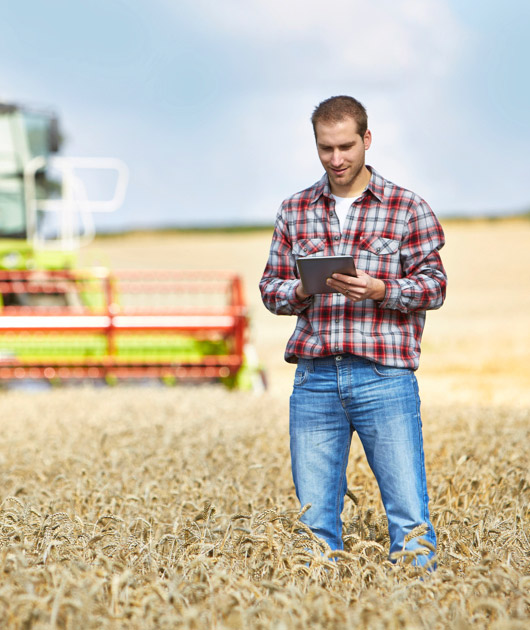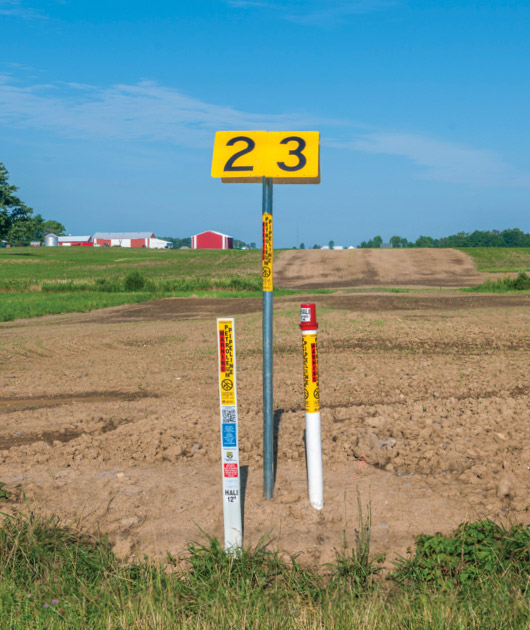 Unearthing the Finder
People living and working along pipelines – from landowners to emergency and public-works officials to everyday residents – need access to critical information before digging or developing. Their safety depends on it. Where are the lines? Who can they contact for more assistance? What else should they know?
Considering the thousands of miles of pipelines in the company's network, our teams would have to translate thousands of pieces of vital assets into a digital tool that both professionals and laypeople could master with ease.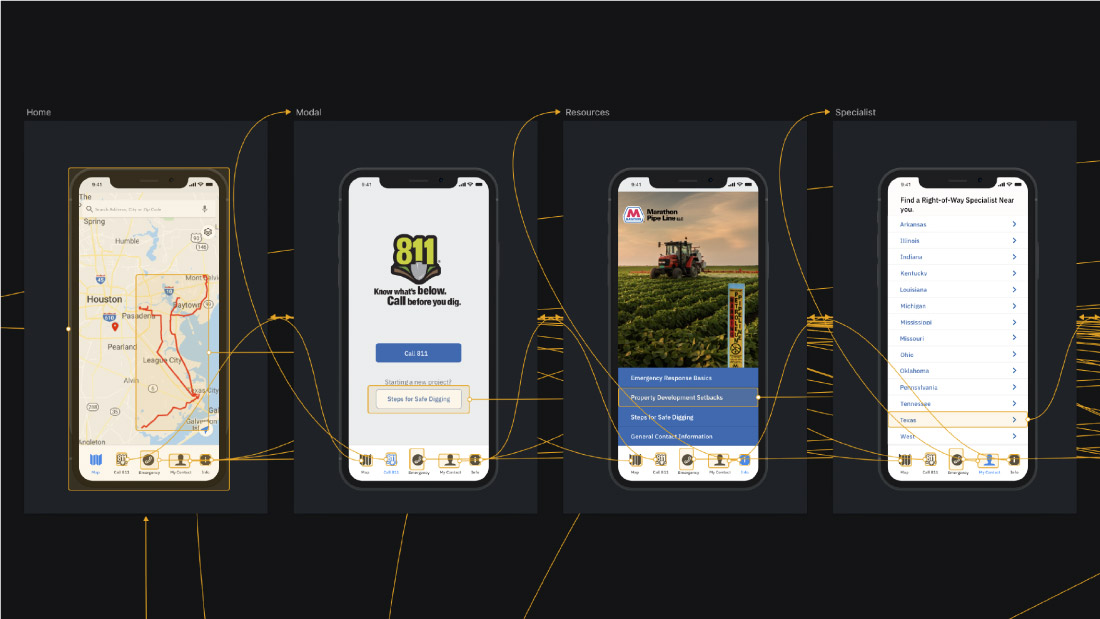 Coding Empowerment
Creating a first-of-its-kind app in the industry would be no simple task. With no off-the-shelf solutions to draw from, we knew we would have to create a powerful tool from scratch. The BrandExtract team was confident we could exceed Marathon Pipeline's goals. How? We dug up answers to questions that have never been asked. Through hours of investigation, strategy sessions and development, our team created an industry-changing tool and elevated the ways that Marathon Pipeline is seen and valued in the communities it touches.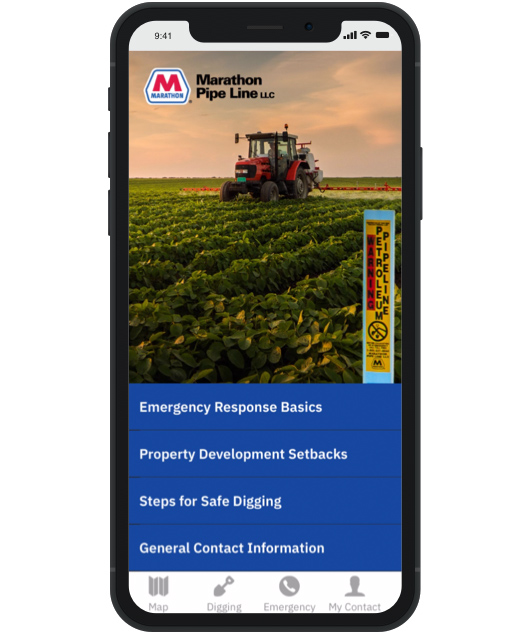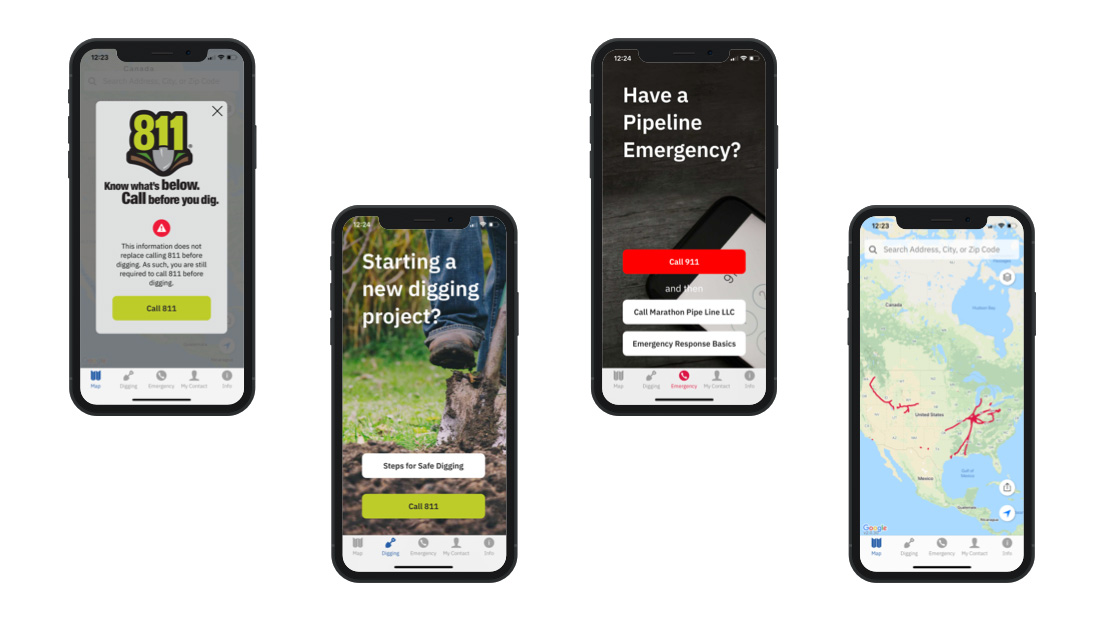 A Legacy of Collaboration
It was more than a decade ago that BrandExtract helped Marathon Pipeline revolutionize the way it connects with communities and provides safety assurance, so it can continue to deliver the vital energy that drives our society. Dozens of projects later, we continue to help Marathon Pipeline align its branding with its corporate strategy. We have cultivated a collaborative relationship built on trust, respect and doing the right thing. While the industry, the technology and the challenges change, our team is committed to making successful outcomes a constant.
The Marathon Pipeline Finder app empowers everyone to be a guardian of public safety — it's never been easier to learn about our pipelines, call 811 before digging, or reach out if a question or concern arises.
Awards
Gold Award: Services & Utilities for Mobile Sites & Apps - W³ Awards
Silver Award: Business for Mobile Sites & Apps - W³ Awards
Silver Award: Maps & Navigation for Mobile Sites & Apps - W³ Awards
Best Energy Mobile Application - Web Marketing Association, Mobile Web Award