A Medical Breakthrough
When Millar came to BrandExtract its business was facing numerous challenges and setting serious growth goals. The company's renowned founder had retired and transitioning the brand equity from his long-held leadership position in the market was taking time. Sales were not hitting optimal goals, innovation was reassessing, and every aspect of the company needed to be revitalized and repositioned in the CEO's mind. We started with an agile brand assessment from the foundation and rebuilt Millar's brand platform from the ground up. Global interviews with buyers and competitive analysis yielded numerous opportunities for additional application usage and buyer preferences.
Website

Location

Houston, TX

Industry

Services Offered

Strategy
Branding
Marketing
Digital
Our Strategy in Action
First Diagnosis
Our initial activities focused on helping Millar reenter the clinical side of the business, which the company had abandoned in prior years. Rather than simply declaring that they were back, we built a strategy to launch a new Millar, with branding that would spark new energy and new perceptions. From there we've never looked back. We've worked closely with multiple CEOs and marketing teams to guide the company through several major shifts in the business – from launching new revenue streams to handling new acquisitions.
Signs of Life
We could see from the start that to change market perceptions and elevate the brand externally, we'd have to start with guiding the company on the inside. We developed a new mission, vision and values to bring Millar's purpose into focus and align leadership with sales teams and all other employees. We evaluated market densities and geography to better align sales focus, media spends and application messaging. We helped refine a simplified product architecture and naming convention to bring additional clarity to the offering in the marketplace. Then BrandExtract designed go-to-market launches to introduce the new Millar to the world. And as the company began to expand through acquisitions, we helped integrate those solutions and workforces into our newly unified brand and culture.
"We really appreciate that BrandExtract pushed us out of our comfort zone to help us completely transform our brand."
The Right Prescription
Once the new Millar brand hit its stride, it was time for even greater transformation. As the relationship grew, we began to see new avenues to elevate Millar's story and stature. BrandExtract developed a brand OEM value chain to guide the company in identifying new revenue opportunities. And we helped Millar pursue those opportunities by repositioning the company from a catheter manufacturer to an innovator of medical solutions. This was not a stretch – at last, Millar was purporting its true purpose and inspiring belief.
The expanded position launched with a new division that would partner directly with OEMs to innovate new solutions. We supported all of these efforts with extended brand messaging, new marketing campaigns, and a new OEM website.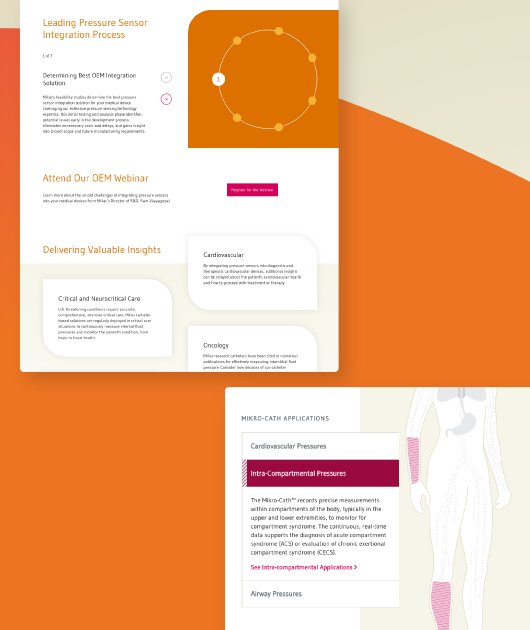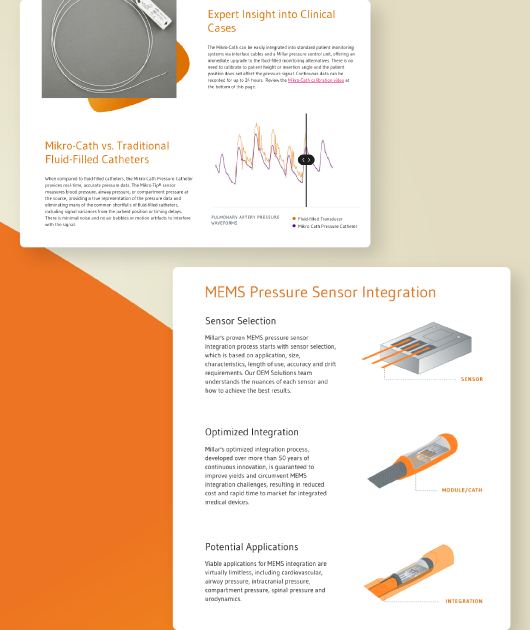 Making the Improbable Possible
Over a decade later, we are still helping Millar create, transform and grow. We've gone from being a brand consultant to a true business partner. We've built a deep understanding of Millar's industry, and the company's leadership trusts us to get involved with decisions that go beyond branding. This decade-long relationship is driven by years of success, and the results are proof.
Photographic images of the interior of the Millar building that BrandExtract designed.
Play video
Ongoing Care
As Millar continued to grow and expand, we continued to tell the story of their brand. When they moved into a new headquarters in Pearland, TX, we were there every step of the 2-year construction process. Our team developed environmental design, signage and displays that brought Millar's long history of changing lives through innovative medical technology to the forefront. The 27 new branded areas, wayfinding and interactive exhibits in their offices now clearly illustrate how that history connects to the present-day capabilities of Millar, and how their pressure sensing innovations impact nearly every aspect of bodily health.

We've also continued to make updates to the Millar website, adding new pages when necessary and evolving the brand messaging as the company has continued to grow. Our partnership has even involved developing tradeshow graphics and banner stands so Millar can put its best foot forward in its industry.
heart and lungs and nervous system being highlighted for Millar catheters
Play video
Results and Outcomes
30%
YoY growth rate following their rebrand
Growth Enablement
Identified and added new revenue streams to their business
Transformation
Took them from a catheter manufacturer to an OEM partner that is essential to life-saving technologies across the globe
Awards
Crystal Award for Tradeshow Booth - AMA Awards
Crystal Award for Video - AMA Awards
Best Website - ANA Lantern Awards
Best Medical Mobile Website - Web Marketing Association
Best Medical Equipment Mobile Website - Web Marketing Association
Silver Award for Biotechnology Website - W3 Awards
Medical Equipment Standard of Excellence - WebAwards