Article
How to Build an Inbound Marketing Strategy (With Examples)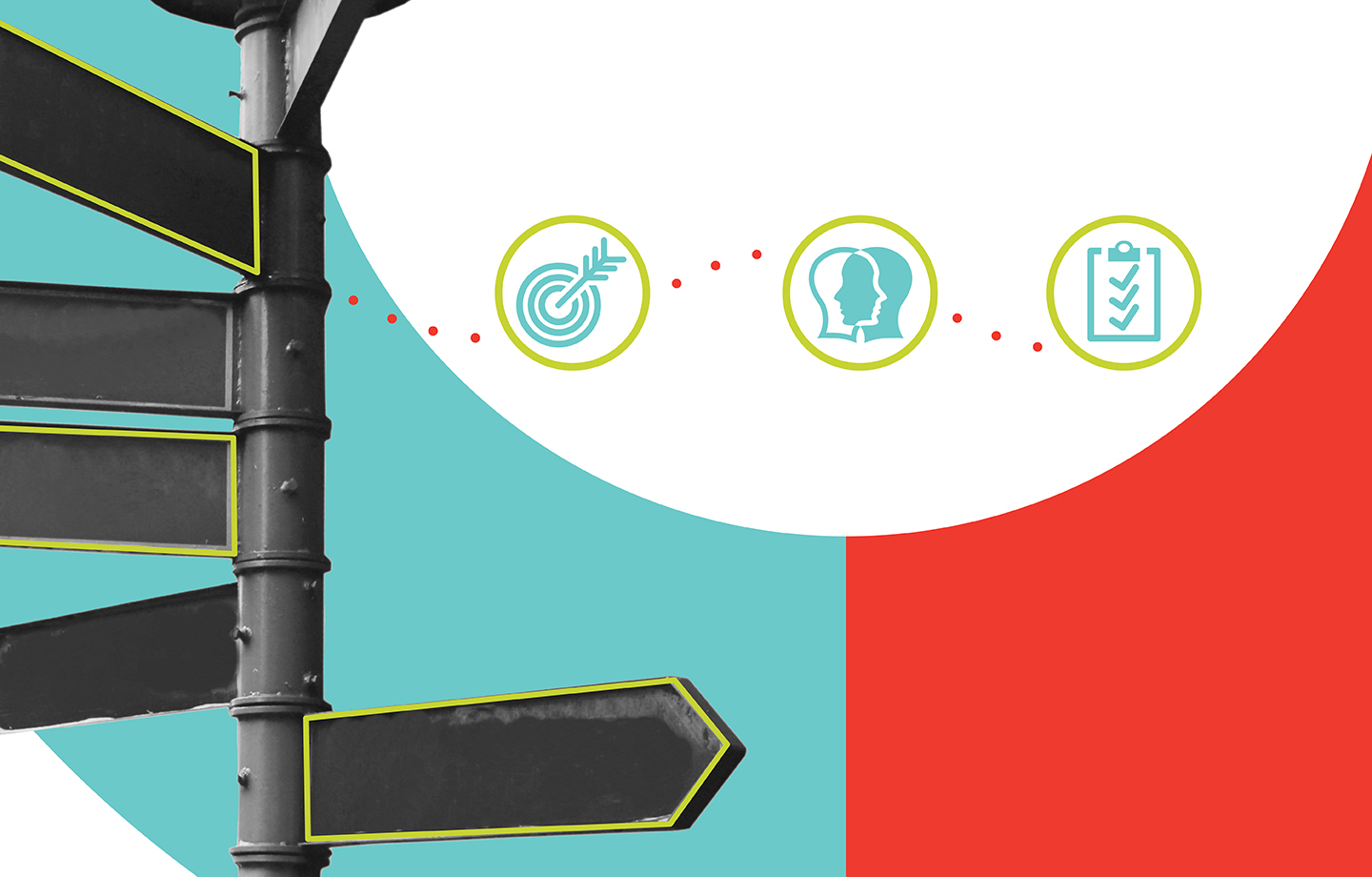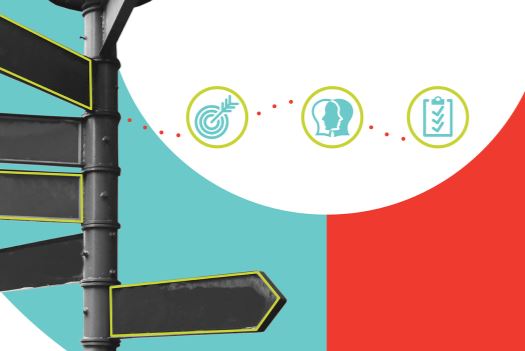 Inbound marketing has the power to build strong relationships with potential clients through engaging, helpful content that appeals to their needs and pain points. As opposed to outbound marketing, inbound marketing's purpose is to gain visibility not through pushing messages on people, but creating content that solves your customers problems, then letting customers find those solutions on their own time.
But figuring out what kinds of content, solutions and answers your customers are looking for takes a solid amount of research and strategic thinking. Not to mention developing a way to deliver that content in a thoughtful way that appeals to your audience through the medium they're most likely to use.
The best part is, you can set all this up with automations, which means you can generate leads continuously over time without having to perform constant maintenance and upkeep—yet another advantage over outbound marketing.
Below, we've broken down the key steps to building an inbound strategy that builds trust between your brand and your customers. Ultimately, it will culminate in better lead generation and customer retention as people begin to recognize your brand for its quality content that helps solve their problems.
Along the way, we've provided real-life examples of how we implemented the same steps at BrandExtract with our own content offering. At the end we'll give you a peek behind the curtain at some of the results we've seen from our efforts, and provide you with further resources to get started on your own inbound marketing strategy.
Step #1: Set SMART Goals
Like any good strategy, building an inbound marketing strategy should begin with a discovery session that evaluates what you're trying to accomplish. It should start with a look at historical data so that you can build upon what has been successful and leave behind what hasn't.
Make sure to also take a look at what your competitors are doing. Do they have a guide that seems to perform well in search results? Do they have a blog article that you often see shared within your industry? How do they generate leads for new business?
Based on your findings from historical data and competitor research, you can determine a few goals: is the purpose of your strategy to increase leads? To generate more organic traffic to your website? Use your research to generate goals that are SMART:
Specific
Measurable
Attainable
Realistic
Timely
These goals will act as a guide for your strategy and inform your creative direction. In combination with the personas you develop in step #2, you'll be able to reference these goals when deciding the exact nature of the content you're producing and the method for delivering it.
What we did at BrandExtract:
At BrandExtract, we often help companies who are undergoing significant changes that could impact how they're perceived in the marketplace. When massive corporate changes are happening, companies need a pathway to guide their growth. We help them develop that guide through brand research and creative messaging that helps them realign their corporate and brand strategies.
When developing a new inbound marketing strategy for ourselves, we looked at past strategies that found success. Our brand strategy guide was one successful content offering that had generated leads in the past, so we started by diving into that historical data and developing goals for the future:
Create a new lead nurturing campaign to nurture leads to the next step of the buyer's journey
Gain 500 new leads
Gain 100 signups to our marketing newsletter
Step #2: Develop Personas
Regardless of whether you're a B2B or B2C company, you need to understand your customers. Understanding them — not just their behavior or what they care about, but what they value most — is invaluable and helps guide your strategy. Not only does it help you design a specific campaign, but it also helps you find the right messaging or product mix. When you start to understand who your buyers are, you can understand better how to craft your strategy.
To gain a better understanding of who their customers are, most brands develop personas. Personas are a representation of your target audience. They are archetypes or averages of a specific customer or demographic you're aiming to attract.
Personas are built so that you can begin to develop empathy for your target audience. They should be based on actual research and data to help inform the development of this archetype. By doing so, you help ensure that your personas are an accurate representation of a hypothetical individual within your target audience.
An audience persona might include detailed information about their everyday habits, their hobbies, their level of education or their personal and professional goals. Don't just assume these demographics—they should always rely on research into actual customers to develop an accurate picture of their needs. This might require surveys, voice-of-customer interviews or other data collection methods.
Once you're equipped with buyer personas, you can begin the process of mapping their journey as a member of your audience. Maybe you're interested in the steps they take to buy a particular product, how they seek out a type of service or the goal they're trying to accomplish. Either way, at each step of their journey you want to identify their goals and any related pain points.
What we did at BrandExtract:
Our customer personas are integral to everything we do as a company. Every piece of messaging we develop, from email newsletters to social media posts to the article you're currently reading, is informed by our personas' interests, needs and pain points.
For the inbound marketing strategy in question, we primarily focused on the persona we call our "knowledgeable prospect." Nicknamed Frank, this persona is represented as a Director of Marketing in a B2B industrial company and is experienced with rebranding.
Frank might be looking for a new branding consultancy that can help take his company's brand to the next level. His common pain points include being frustrated with his current agency because they're more reactive than proactive, and he's losing confidence in their ability to deliver. He wants a partnership with branding experts who can support his company through a complex change or significant growth.
Based on our personas' needs, we began planning our strategy around people like Frank. What kinds of content are helpful to the Franks out there? What solutions are they looking for to help them make an impact at their company? These questions, along with our goals we determined in Step #1, informed the content planning in the following step.
Step #3: Content and Topic Planning
Equipped with your SMART goals and your personas, you're now ready to come up with some content ideas that will draw people in. Once again, take a look at what has worked in the past: Maybe you discover that every time your company makes content around a specific topic, you get a healthy amount of traffic to your website. Or maybe your customers are constantly talking about a problem they have that you can provide the solution for.
Whatever the angle, keep an eye out for areas of opportunity where you provide value for people approaching your brand. Remember, you're trying to create content that solves people's actual problems—content they can find on their own time. Using your journey mapping from Step #2, determine the types of content that will resonate with buyer personas in each stage of their journey.
Top of funnel awareness: leads at the top of the funnel are typically searching for general information about a subject.

Blog articles
Beginner's guides
Social media posts

Middle of funnel evaluation: leads in the middle of funnel need to be introduced to your brand and learn what it is like to do business with you.

Advice articles about a common problem your customers face
Case studies that demonstrate your past work

Bottom of funnel purchase decision: leads at the bottom of funnel are most often looking for information that communicates the functionality and benefits of your product/service.

Free trial, estimate or consultation
Unique downloadable content offers that encourage leads to convert (like this one)
Determine broad Topic Clusters (or content topics) that will resonate with buyer personas at the specific stage in the funnel that you're targeting. Keyword research can help validate your content planning and keep an eye on topics that are commonly searched for in your industry. Then you can compare that research with the content you already have: what can be repurposed? What content needs a bit of a refresh to stay relevant? And what content will you need to create from scratch for your inbound marketing strategy?

What we did at BrandExtract:
Because our customers are often facing challenges navigating a major change in their corporate structure, we took a look at some of the topics that are most important to them. Using keyword research, historical quantitative data and qualitative data from talking to our clients, we identified a topic that our customer personas are often looking for help with: mergers and acquisitions.
Using that information, we got to work identifying content that might be helpful to companies planning a merger or acquisition. We gathered articles from our blog on that topic, and put together a list of new content items we should develop to round out the list. Then we started thinking about how people who are interested in mergers and acquisitions might receive our content, building out a delivery system that would meet their needs at the right time.
Step #4: Outline Lead Nurturing Campaign
With your content strategy developed and targeted to your audience at the various stages of their journey, it's time to think about how your inbound marketing strategy can continuously help people as they reach the next part of their journey.
Remember, inbound marketing is all about offering the right resources and messaging at the right time, so that the customer decides to keep approaching you on their own. This is a key step in establishing trust that builds fruitful relationships with your brand.
A common and effective method of guiding potential leads through their buying journey is through automated email campaigns. These allow you to send targeted messaging and content to your prospects at the right stage in their journey, and gently offer them more information to guide them along the way. This encourages them to keep engaging with your content and start using it as a valuable resource. And, with tools like lead scoring, you can measure the most-engaged leads with a point-based system

When outlining the campaign, you should determine:
How contacts enter this lead nurturing process

Form submission
Webinar attendance

The goal for the lead nurturing campaign

Downloading a content offer
Visiting a specific page
Submitting a form

How many touchpoints involved in the campaign

How many emails in the campaign
What content is shared is shared in the lead nurturing emails

Case studies
Blogs
Webinars
Pillar pages
Content offers

The timing between each touchpoint
It's important to think of each of these emails as a step in the larger process of engaging with your brand. These aren't one-off, disconnected emails, but a continuous journey for your potential customers. Therefore, the specific calls-to-action are a crucial part of each message. What are you asking the reader to do at the end of each email? Is it to visit a page on your website? To submit a contact form? To request a live demo?
Never forget to lean on your research from earlier to inform these CTAs so that you're guiding your leads to a solution that would help them achieve their own goals. If you position your brand as one that reliably answers their questions and solves their problems, then you'll have built up some loyalty in a lead that will be far more likely to buy from you in the future.

What we did at BrandExtract:
With our focus solidified on business professionals looking for help navigating a corporate merger or acquisition, we started outlining each email that they would receive, the cadence and the type of content that each email would include. As we identified in step #1, we wanted to gain new leads through this campaign, and, ultimately, lead them to sign up for our regular marketing email newsletter.
The way people would enter our campaign would be through a downloadable checklist to help prepare them for a merger or acquisition. The content covers commonly-overlooked brand components that need to be updated during a corporate reorganization. This speaks to our unique area of expertise (branding) and offers a helpful tool for people facing a specific challenge.
To download the checklist, the prospect would enter their email address on a landing page with a form. Then they would receive their first email in our lead nurturing campaign.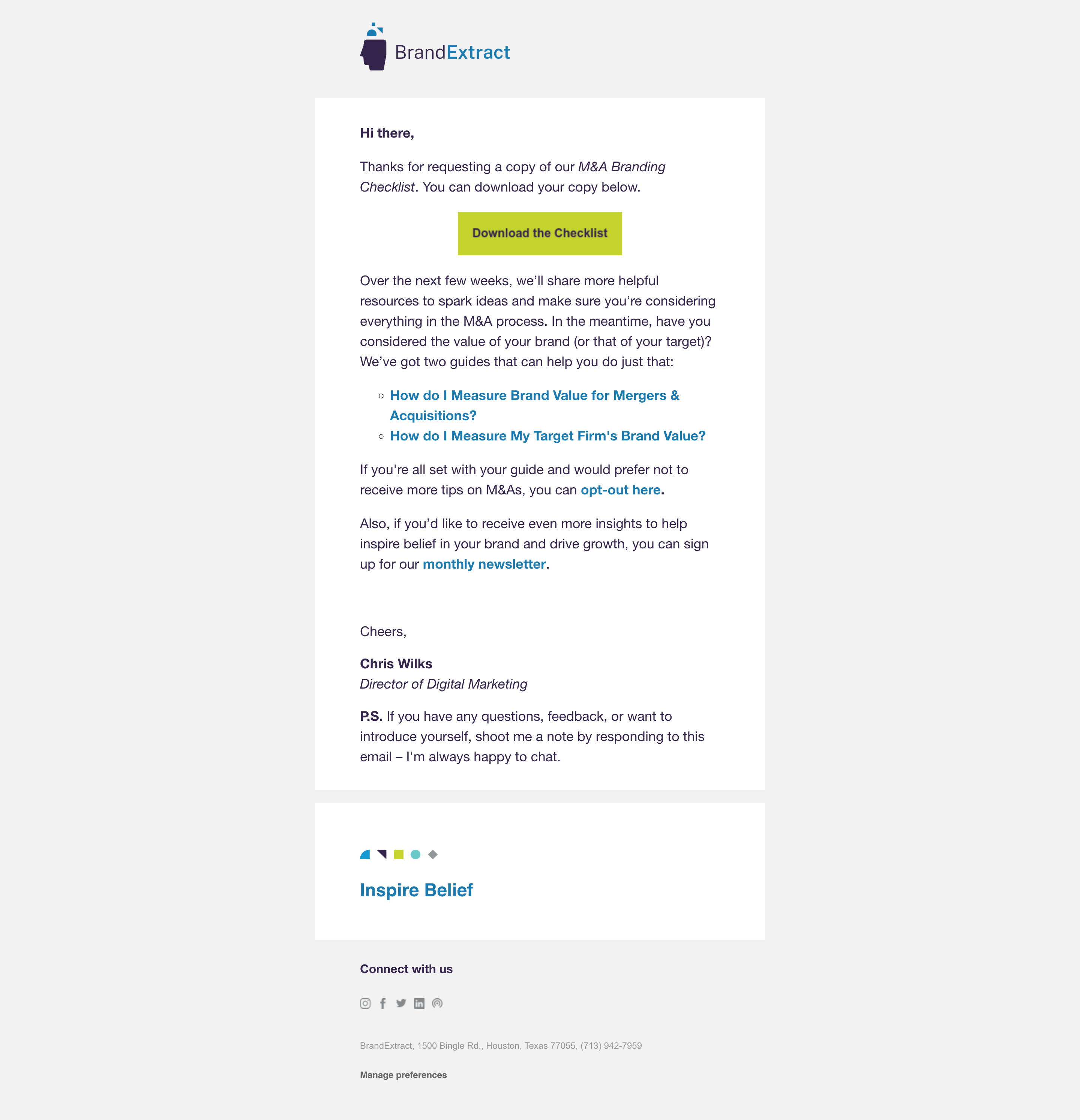 To accomplish these goals, We developed a 4-email automated campaign that would differentiate depending on how people interacted with the CTAs. If the recipient didn't sign up for our newsletter in the first three emails, the final email provided a few more pieces of content and would gently offer one last opportunity to sign up. If they did sign up earlier in the campaign, the last message would notify them that they're all set, and inform them about the future emails they could expect to receive.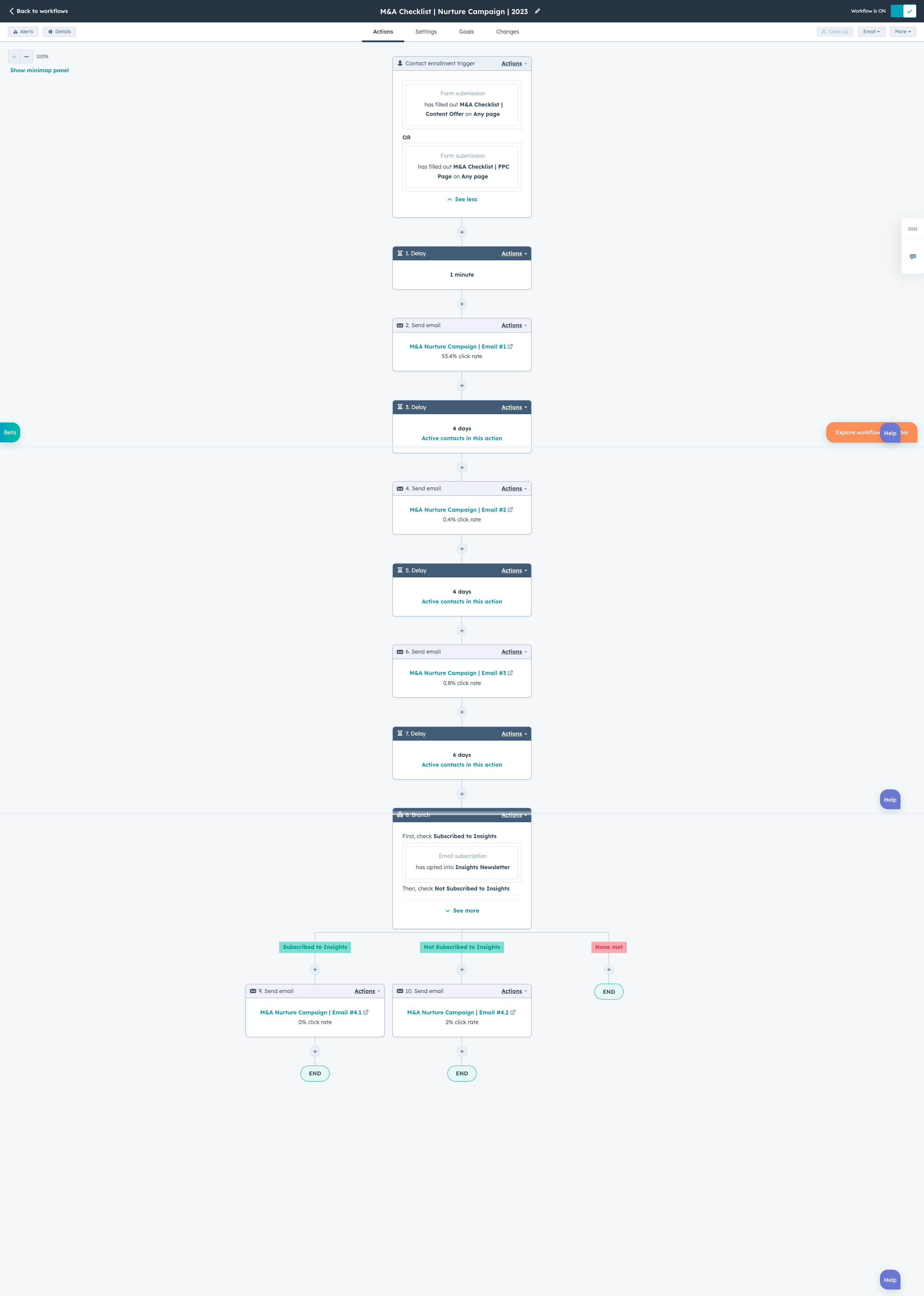 The Results
When all is said and done, you want your inbound marketing strategy to draw in people and drive value for your business. So, does it work?
Our goals were to gain 500 new leads and at least 100 new people enrolled in our monthly content newsletter. After 6 months, we found that our M&A nurture campaign brought in the following results: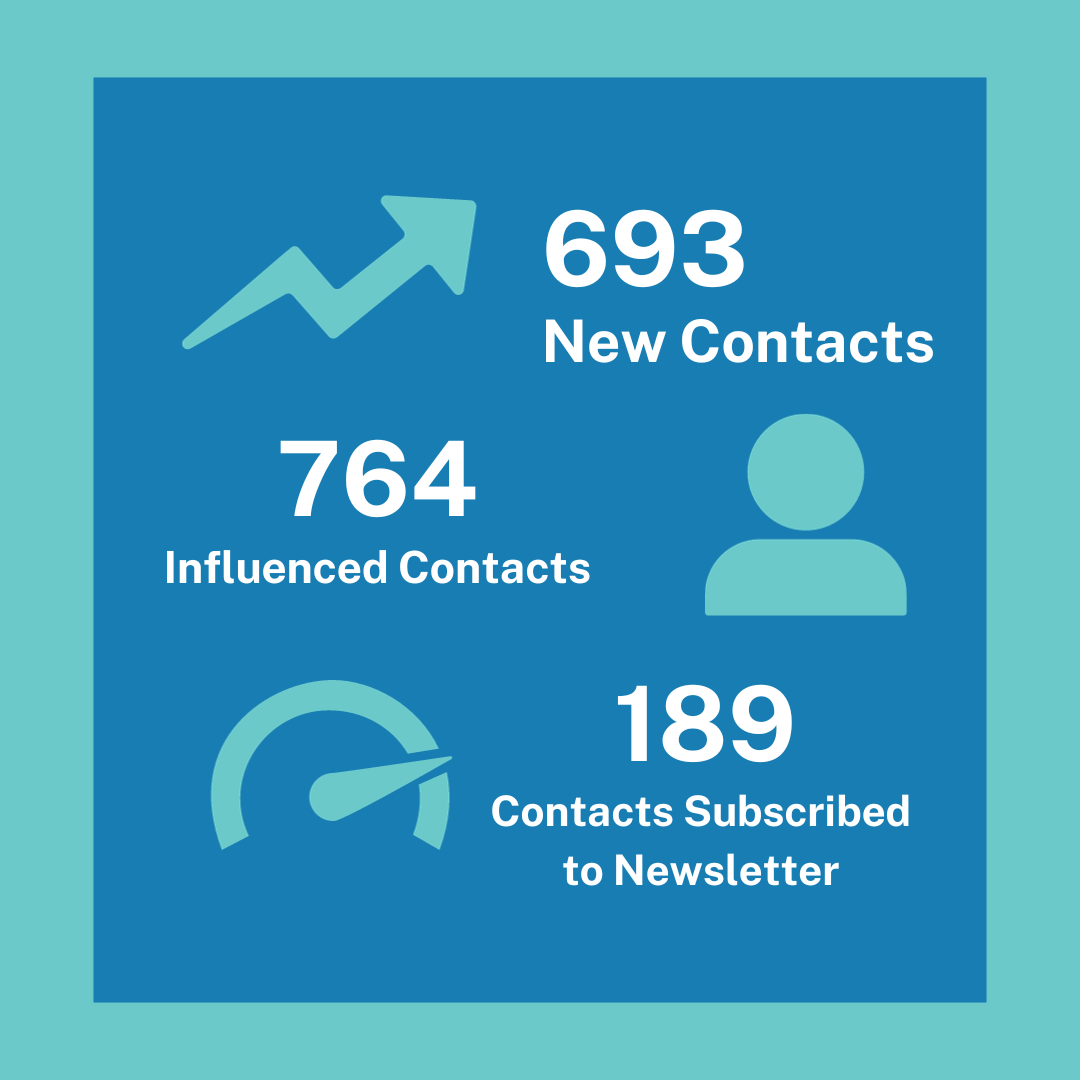 The best part: once we had set up this campaign, it was fully automated, and guided leads through the campaign without our team having to lift a finger. It's now an ongoing part of our larger inbound marketing strategy, and will continue to run until it's time to update it.
This campaign wasn't overly complex, and it wasn't a gigantic lift. 5 total emails developed over the course of a month targeted a specific crowd with specific challenges, and offered a helpful resource for their problems. This encouraged them to continue to engage with us, to the point where nearly 200 people signed up to receive more information.
The main benefit of inbound marketing is that it doesn't make people feel like they're being sold to constantly. It provides real content that makes their lives easier, and if they want to continue to receive that content, they'll sign up on their own. The nearly 700 new leads we generated with this campaign are already interested in what we offer, so there's no need to bombard them with outbound marketing messaging that pressures them to buy ASAP. Our inbound marketing strategy is designed to open channels for them to approach us on their own time, when they're at a stage in their buying journey where they're ready to work with us.
Take Your Inbound Marketing to the Next Level
Now that you've read the basic steps to creating an inbound marketing strategy, you'll soon be ready to turn your leads into active customers. There's a lot more nitty-gritty details to building an inbound marketing strategy, including:
How to score leads to measure how ready to buy they are
How to audit your CRM (or migrate to a new one)
How to plan your automation strategy and implementation
If you're looking for a guide to answer these questions in detail, don't hesitate to reach out to one of our inbound marketing experts. We can help you define your goals, build your strategy and connect it with your brand strategy. For even more inbound marketing resources, check out some more insights: