Article
Should Social Media Be Part of Your B2B Marketing Strategy?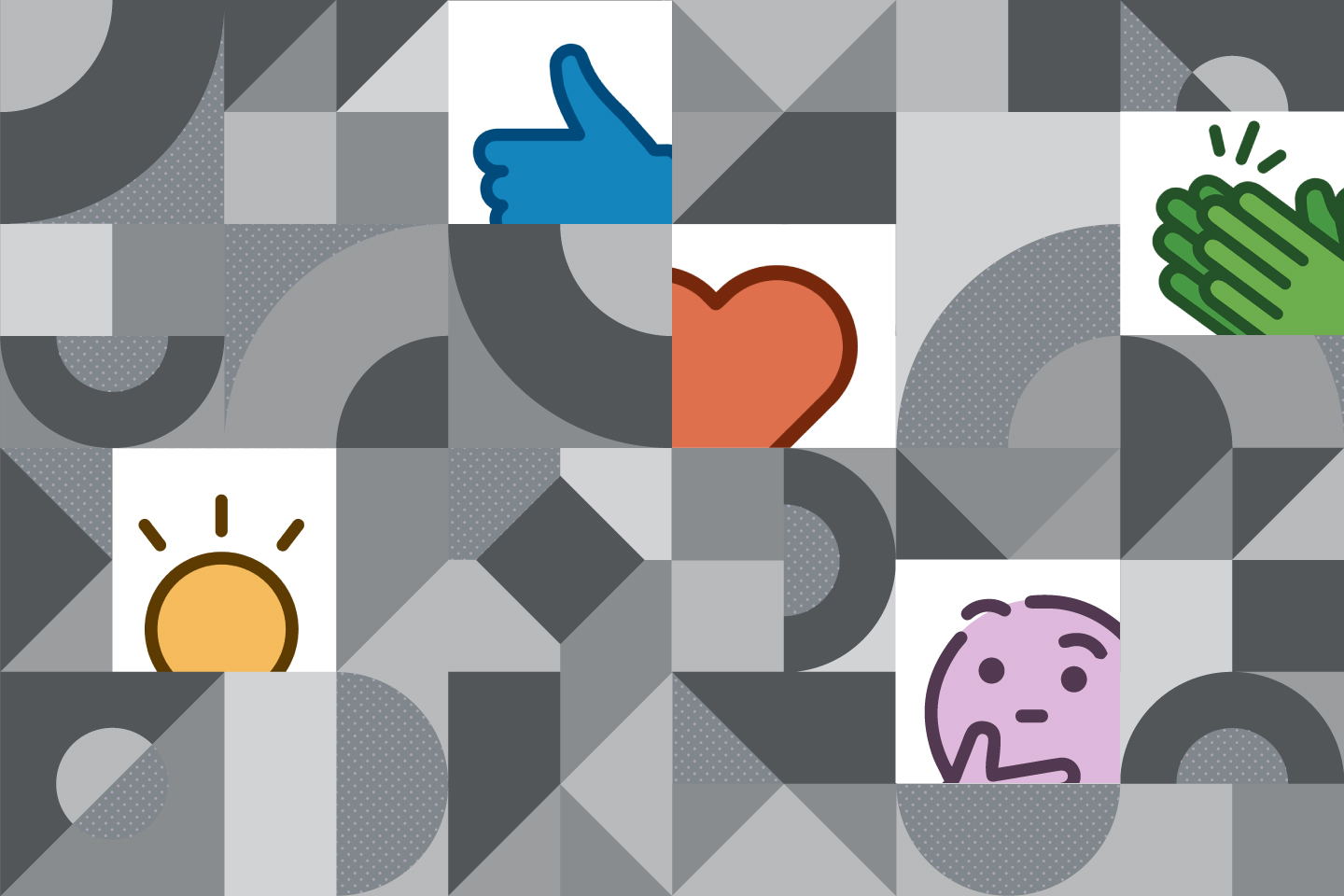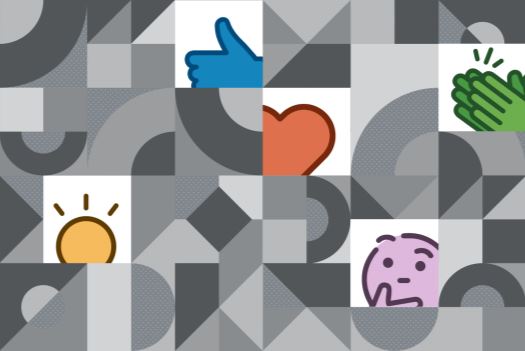 If you're a B2B marketer, odds are you've debated the value of a B2B social media strategy for your business. Some common objections you've likely considered are:
It's costly to maintain and you're not seeing its impact on the bottom line.

You're skeptical it's even where your customers find or research you.

Your marketing team is stretched thin and you feel like social is the best place to make cuts.
You're not alone. After all, social media channels cater to B2C and consumer products and services. Social is often the place people go to get updates on friends, see what's happening, and find something beautiful or inspirational. They're in a social, not business mindset. So social channels reward content that is casual, entertaining, or consumer-focused. In short, story-driven content wins. So for B2B companies, is social media even worth it?
Our answer is a resounding yes. In this article, we'll break down the business case for why you should invest in B2B social media marketing.
Here's the executive summary:
Social media can be a valuable tool for building a brand and demand gen.

It's important at every stage of the customer journey.

Social media is a long-term game.

It takes time, consistency, and story-driven social media content for brands to reap the rewards.

A multi-platform approach may not be best for every company.

Big brands have the resources and audience to sustain a vast social presence; small businesses may benefit from a more focused approach.

The best content is story-driven.

It gives you a reason to follow. It should be entertaining, helpful, and inspiring.

Personal and brand social accounts are like a flywheel.

Investments in both can help your company grow.
Let's dive in.
The Business Case for Social Media
Let's start with the skeptics. SEO and marketing speaker and author, Rand Fishkin, shared a Reddit thread from a user who wrote, "Big brands win on social media because the brand recognition is there, but social media absolutely shouldn't be a core strategy for low budgets."
The big brands in B2C or B2B like Apple, Nike, Microsoft, Slack and HubSpot have plenty of clout on social media. After all, they've invested years into building their brands and developing loyal customer bases. Smaller businesses may be reluctant to use budget for someone to manage social media full-time and consistently create content. That's something big, established brands don't have to worry about.
So should B2B companies invest in social media as part of their digital marketing strategy? Here's what one user pointed out in response: "The issue is brands with low budgets try to act like brands with big budgets. That isn't the game you're playing - you need to be much more nimble, much more lean."
More than ever before, there's a level playing field for B2B social media. Big and small brands can tap into the power of social media: a low-cost channel with a potential audience of over 3.6 billion people, more than 50% of the world's population.
With the right strategy, the right tools, and more importantly, the right team, the little guys can look like the big guys. But first, marketing teams have to reframe expectations. While social media can help increase sales when used strategically for direct response marketing and lead gen, it shines as a marketing tool for building brand awareness. That should be its primary purpose.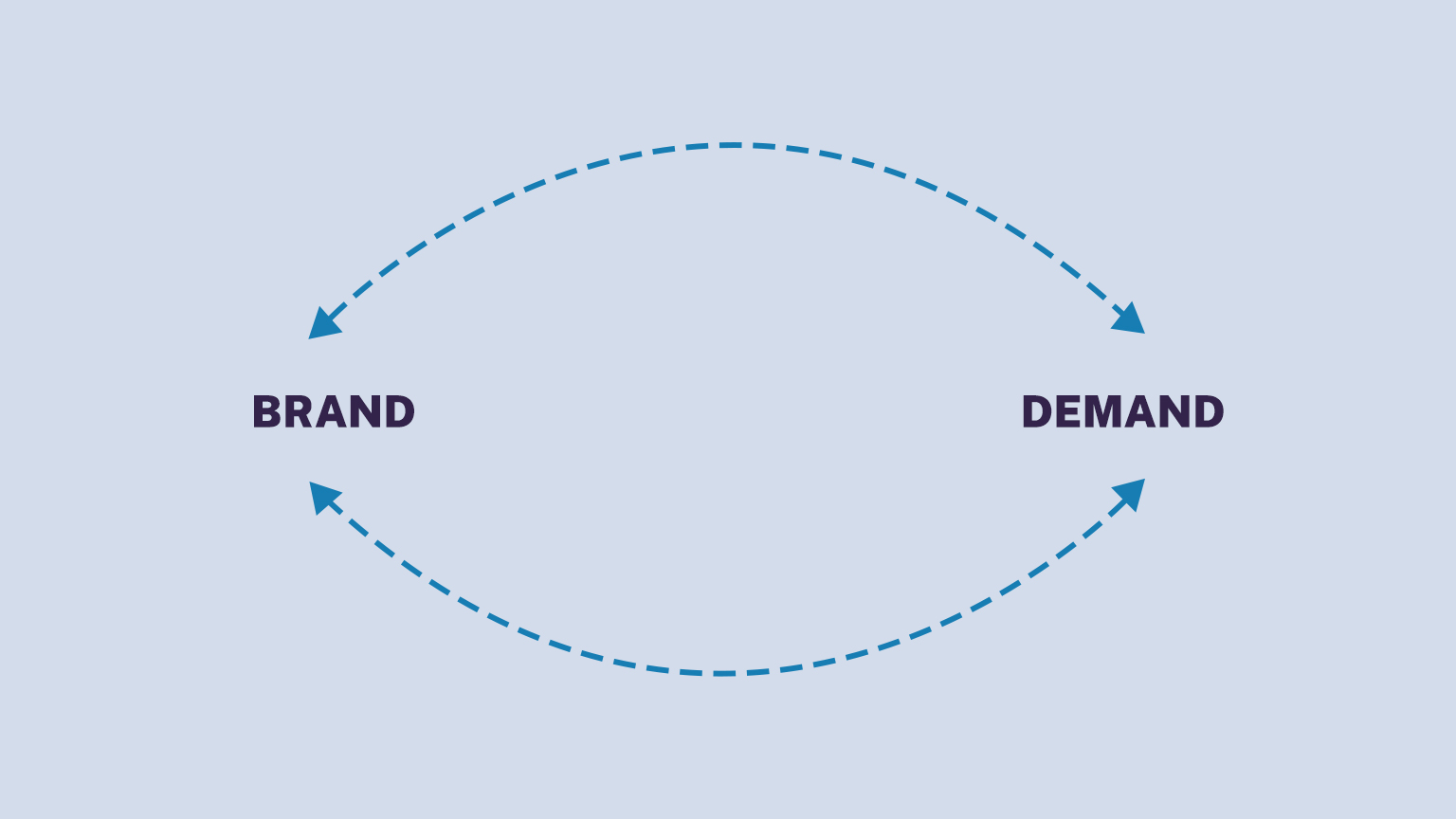 Brand then demand. Building a brand can be your best demand driver because it's a flywheel of content. A strong content strategy grows the brand which then creates demand. Your website might host your blog, but even with the best SEO and keyword optimization, your content won't get traction unless you promote it and then engage with your audience. And one of the best places to do that is on social media platforms.
Growth Takes Consistency and Patience
Building a strong brand presence takes time. Marketers can get caught up in leads or quantifying immediate impact. Most of the time, social media isn't going to help convert customers RIGHT NOW. But with discipline, patience, and a focus on helpful content for customers, there is an inbound impact from building a brand on social. Here are the numbers:
Ultimately, helping is the new selling. B2B social media takes time to see results. It's like SEO – it takes time for brands to reap the rewards. It can be easy to fall into the trap of wanting to see more immediate results. That might especially be true if you're tracking metrics for your company executives and need to be able to showcase the ROI of social media efforts.
Perhaps the best approach is explained by entrepreneur, Gary Vaynerchuck, in his book Jab, Jab, Jab, Right Hook. The 'jabs' are the engaging, helpful, inspirational pieces of content on social media. The 'right hooks' are focused on demand gen and only work after equity built from successful micro-content (the 'jabs') shared over time. It's the investment in hundreds of pieces of micro-content that provide marginal gains that ultimately build a brand and create a community of loyal customers. The same way money compounds with interest over time, the impact of social media multiplies with consistent, quality content backed by a strong B2B social media strategy.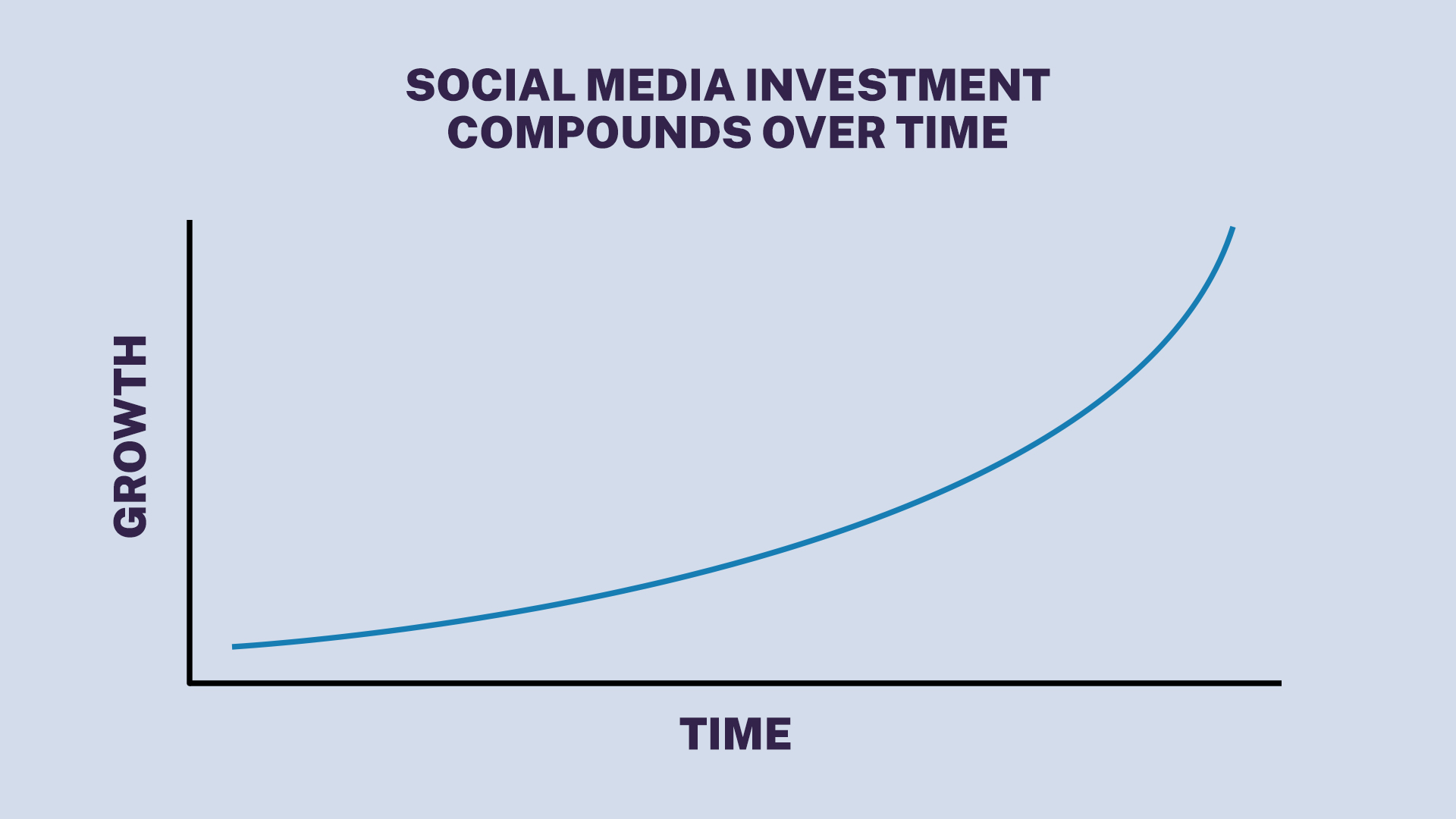 The key is establishing short-term, mid-term, and long-term KPIs that are tied to revenue – and demonstrating positive growth month-over-month. For example, a good indicator of short-term impact could be website traffic from social media. Over time, more traffic = more revenue (if your website is optimized for conversions).
A good-mid term KPI would be tied to revenue; you can establish conversion goals in Google Analytics and track completions from social media. And a good long-term KPI should be focused on brand building metrics like Impressions and Engagement, tracked with tools like Google Analytics on top of social media management tools like Sprout Social, Hootsuite, or Buffer.
Growing an audience takes consistency and patience. But it WILL be a worthwhile investment when the focus is on brand building first, demand gen second.
Story-Driven Content Wins
The best brands share compelling stories. Let's face it, B2B creative and social strategy is years behind B2C brands. They go through the motions posting dry, uninspiring, unhelpful content. It's this kind of approach that results in low engagement and no impact on the bottom line. So B2B marketers need to pivot. They need to focus on sharing stories of their customers, their employees, and their communities through the lens of their mission, not their product or service.
The formula is simple: make people care. "Please, emotionally, intellectually, aesthetically, just make me care," says filmmaker, Andrew Stanton in a 2012 TED Talk. "We all know what it's like to not care. You've gone through hundreds of TV channels, just switching channel after channel, and then suddenly you actually stop on one. It's already halfway over, but something's caught you and you're drawn in and you care. That's not by chance, that's by design."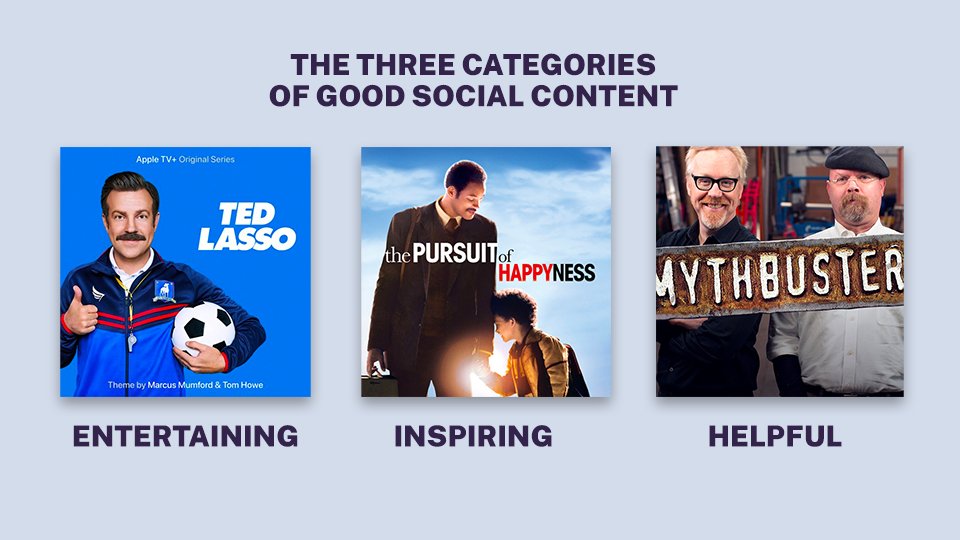 Why shouldn't B2B content be as funny as Ted Lasso, as inspirational as The Pursuit of Happyness, or as educational as Mythbusters? The best content on social media falls into three categories:
Entertaining

"I need to laugh, cry, or feel an emotion"

Helpful

"

I need to learn something"

Inspiring

"I need ideas"
Focus on the customer with your content, NOT the company. Right now, the bar is low for B2B content on social media. Nobody likes being sold to, but we all love a good story. Gary V sums it up: "Your story isn't powerful enough if all it does is lead the horse to water; it has to inspire the horse to drink, too."
Is a Multi-Platform Approach Best?
It can be tempting to have a presence on every social platform. It's easy to get FOMO or to try to keep up with the Joneses by trying to copy your competitors or other brands you admire. But every channel is different and every business has a different audience.
For example, while LinkedIn is a great B2B platform, that doesn't mean it's best for every business. TikTok, Facebook, and Instagram are much more consumer-focused, but with the right creative approach, they may work for your brand. Consider what content you're creating, your target audience, and your resources to help you determine the right social media platforms for your business.
Here are some key questions to ask to help:
Who are your buyer personas and what technology do they use?

What are your content strengths and weaknesses?

What resources do you have to allocate to this effort?

How do your personas use each platform? And how does that fit into their purchasing decisions?

What are the goals/objectives for your business on social media?

What industry do you operate in?

What creative assets do you have to use?
It's important to understand how to tell your story in a way tailored for each platform. For example, Instagram posts give you the ability to swipe through content and post multiple photos or videos. Other platforms limit the number of photos that will show up in the feed or will present them in a different way. The best creative content – the content that gets noticed – is optimized for posting natively on a specific channel.
Are Personal or Brand Accounts More Effective?
People want to do business with other people. So consistent posting on personal accounts (LinkedIn or Twitter, especially) is a great way to generate visibility and interest in your business. It's also a force multiplier – the more people in your organization who commit to posting, the more visible you'll be. More accounts = more unique impressions. So your investment in maintaining personal accounts compounds even more over time than a single brand account. This takes training, trust, and a real team strategy.
Your best advocates are your employees, so empowering them and incorporating them into your social media strategy can help you build a strong brand on social. The B2B companies that perform well on social media encourage their people to post on their own accounts and grow their own brands – not in place of but rather as a complement to social media posts from the brand account. (Gong, G2, Terminus, Drift are a few good examples)
With that said, maintaining a brand account is still valuable. It's a ticker for news and information about your team and your product/service. And it's another touchpoint for building trust throughout the buyer's journey. While you're never able to control your brand, you can manage it – and a brand's social media account is a powerful management tool.
The Best Stories Win
On social media, the best stories win. They generate the most impressions, the most engagement, and the most traffic. And those interactions, sustained over time, help grow a company's brand and bottom line. Social media isn't only for B2C companies – it's a powerful tool for B2B marketers who have the patience to invest over time and the creativity to make people care.