News
New BrandExtract Website Merges Accessibility, Design, UX, and Speed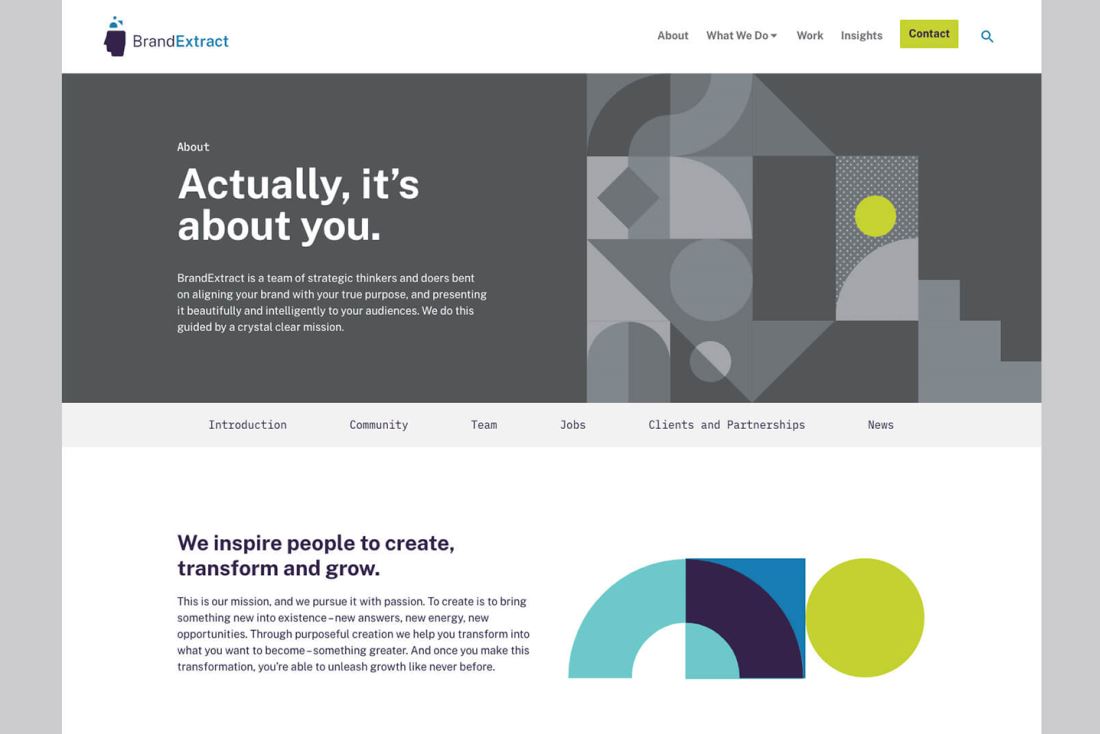 After a year in development, BrandExtract is launching its new website. The new site was built entirely from the ground up, using custom code and a new design. The result is a faster, more accessible website that is a more cohesive representation of the BE brand.
A focal point of the rebuilt website is BrandExtract's belief in accessibility and user experience. Much of the work that went into creating a better user experience involved adding animations and cleaning up color palettes. By focusing on the user, BrandExtract was able to clarify brand voice and showcase creative capabilities along the way.
"A ground-up rebuild is an exciting time for developers," said VP of Software Development, Donovan Buck. "You cut all technical debt, and have an opportunity to apply all the latest best practices. This rebuild represents a huge leap forward in performance. The old site was impressive, but this new site is jaw-dropping."
The site was built in BrandExtract's enterprise-ready web content management system, SAM (Site Authoring and Maintenance), created by and for communications professionals to manage websites.
Architectural Updates
From wireframing to design to development, the site's architecture allowed web strategy to take center stage. The old website had an increasing number of pages that didn't serve a clear purpose. Key architectural improvements were able to pare down the number of pages and shift the focus to key pages.
Emphasis on the Insights tab

: BE wants its users to see what the team is doing. Articles, podcasts, and other resources are essential to understanding the company's capabilities and strategy. Sharing and searching from this page is now easier than ever, with content that can be sorted by category and type.

Utilization of video

: Storytelling is a huge part of inspiring belief in a brand. By using video instead of text to tell more complex stories, the site became more dynamic.

Introduction of animation

: A favorite new feature that allowed the design team to stretch its wings was animation. Animation keeps users engaged while demonstrating the fun personality behind BrandExtract.
Accessibility Improvements
Accessibility also played a huge role in developing the new site. Specifically, new code focused on improving screen reading and standardizing colors to meet WCAG guidelines for contrast ratios.
Labels

: More accurate descriptions of links, buttons, and images allow screen readers to give their users an all-inclusive experience.

Color choices

: By picking better background and type color combinations, the design is sleeker, cleaner, and more accessible. Future design edits will be easier, too.
Amplified Brand Voice
Beyond the design, a key driver behind the new website was better showcasing BE's personality as a brand. Over the years, different writers and creative leads eroded the cohesive brand voice that the company had worked hard to create. With the new website, BrandExtract is able to share that its values and people are differentiators. Together, they exemplify the way BE works.
When the website's project plan was first drafted, the web strategy team looked at the diverse personalities and backgrounds that make up the company. The employees at BrandExtract are all experts in their chosen disciplines and each brings something different to the table, personality-wise and professionally. The uniting force within this otherwise disparate group is the ability to subscribe to the same core values.
This belief in a core value system is at the heart of the BrandExtract brand. BE is more than just an abbreviation for BrandExtract; within the new website, BE also represents Brand Experience. Every aspect of the site is designed to showcase a collective brand personality, a deliberate brand experience, and the company's brand values.
"Through our new website, our team has done an amazing job capturing the culture here at BrandExtract and the impactful work we do to inspire belief for our clients and community," said CEO of BrandExtract, Bo Bothe. "I'm excited to watch the site growing in the coming months and years and am proud to show the world how dynamic and talented our team is."