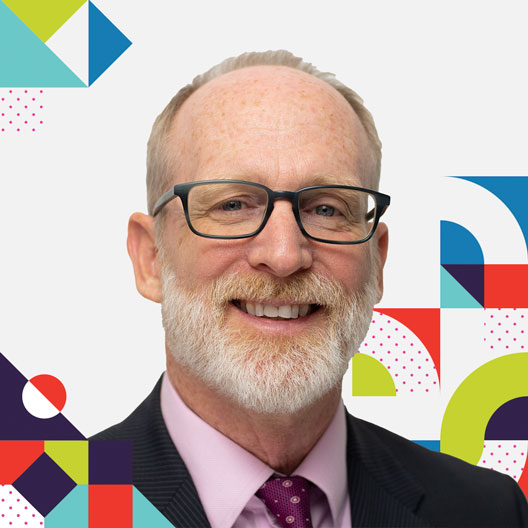 Community Advocate, Leader, Wine Aficionado
Jonathan began his career as a designer and brand strategist before becoming a co-founding partner and the Chairman of BrandExtract. Jonathan's passion for branding has given him over 30 years of insight which he's applied to both startups and Fortune 100 giants across the country. Beyond shaping brand strategy, Jonathan believes in the power of doing good and serves on numerous non-profit and community service-based boards. A candid and insightful leader, Jonathan is always ready to help the team in and outside of work.
One of the biggest hurdles to clear is not a lack of belief in a brand, but in the process of branding. Our job is to inspire companies to take ownership of the process so they can deliver on it every day. Without an inspired strategy, your customers will fail to believe in your brand.
A native Houstonian, Jonathan is a 1986 graduate of Texas Tech University with a BFA in Design Communications and minor in Packaging Design. Prior to founding BrandExtract with Bo Bothe in 2005, he started Fisher Creative in 1994, where he established a place in Houston as a thought leader focused on building integrated brand communications. Jonathan's work stretches across numerous industries and over a hundred companies from energy to manufacturing to professional services and many more giving him an extremely broad perspective for solving all types of brand challenges. As the BrandExtract co-founding partner and chairman has shaped the firm's brand methodology, which focuses not on a brand's unique selling proposition, but rather on its unique relevant promise and how that is experienced/supported.
A lifelong believer in the compounding effect of doing good, Jonathan devotes his time outside of work to organizations that help one-to-many, not just one-to-one. Some of his board services include Emeritus status with Literacy Advance of Houston, The Branch School, National Business Development Association, Houston Community ToolBank and Houston Philanthropic Society of which is a founding member of the latter two. He currently serves on an advisory board for ToolBank USA and San Jacinto College of Art & Design Communications.
What does Jonathan like most about the company he co-founded? "The talent of our team and the diversity of our clients. We work with the best of the best."
In his spare time, you can find him fishing, axe throwing, traveling and appreciating art and wine. He has also taught branding to graduate students at Texas State University and speaks regularly at other institutions.
Fun fact? His birth name isn't Jonathan, it's "Tex."
Education
BFA in Design Communication, Texas Tech University

Integrity Selling Certification
Model-Netics Management Training
Neilson Norman Group Customer Journey Mapping Certification
Awards
Top 40 on Clutch B2B Best Services Provider in Texas (2020)
Great Place to Work®-Certified Company (2019)
Best Places to Work in Houston by Houston Business Journal Ranked #74 (2013)
Houston Business Journal Fast 100 list (2010 - 2012)
Inc5000 (2011)
Outstanding Community Volunteer medal, The Association of Fundraising Professionals (AFP) (2008)
Board Service
San Jacinto College - Visual Arts (2019-Present)

National Business Development Association (2019-2021)

ToolBank USA (2018-Present)

Cink (2013-2015)

Houston Community ToolBank (2012-2018)

Literacy Advance (2007-2012)

The Branch School (2005-2014)

Genesys ITS/Genesys Works (2002-2005)

FlashFind Corporation (1997-2002)

CareFlash (1997-2002)