C&I Engineering
---
See How a Rebrand Energized an Engineering Firm's Competitive Edge
°
---
Overview
C&I Engineering, an engineering, procurement and construction firm, sought to nurture and build its reputation as a strong, mid-sized firm with tremendous potential to grow. In the midst of an increasingly competitive market, we helped reinvigorate the brand with a culture-centric position to support recruitment and retention efforts. See how the brand refresh helps C&I share its big picture mission with clients, employees and prospective talent more effectively.
What We Did
Strategically repositioned the brand
Established a cohesive internal communications strategy
Extended selling propositions for greater customer impact
Developed strong internal brand engagement for recruitment and retention
How We Did It
Assessed the brand perception across employees, customers and competitors
Created new mission, vision and value statements to culturally realign the company
Developed a new brand identity, brand position and messaging
Launched a new website, implemented a new brand program, and developed updated sales and recruiting collateral
Challenge
C&I's brand needed to be revitalized to remain competitive in a changing market. Bigger engineering firms had started offering similar services and going after the same midstream refinery and petrochemical clients, a key industry sector for C&I. The firm also experienced high employee turnover as these competitors attempted to lure away top talent.
A refreshed brand would encourage cohesiveness and employee longevity, and help communicate the big picture to clients and prospective talent. C&I also needed to rethink its web user experience for clients, prospects and jobseekers.
Strategy
We began by assessing the existing brand, including conducting a competitive study and interviews. We spoke to both employees and clients to figure out the internal and external perceptions of the company, respectively. The assessment revealed gaps in the organizational process, messaging and structure, which contributed to weak sales close ratios and higher than average attrition.
We developed the brand concept, "Big Picture Engineering," to describe the firm's full service perspective, consultative approach and "run it like we own it" attitude. After framing this new position, we refreshed the company's look and feel and created stronger messaging.
To aid recruiting efforts, we made the visual brand more people-centric. We helped reinvent C&I's mission and vision to resonate and inspire the company, setting it on a new path forward.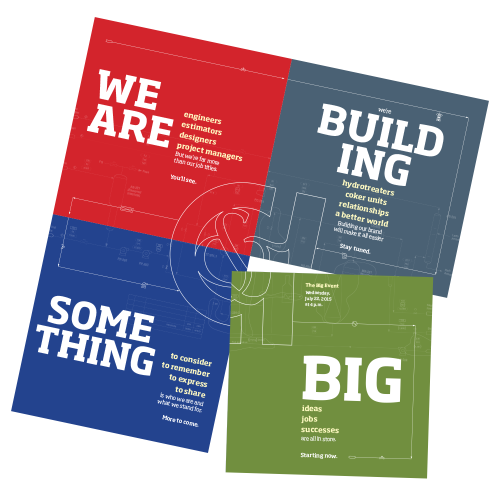 Impact
Internally, the brand refresh successfully generated excitement among employees, giving them a sense of ownership in the organization. The rebrand improved retention rates, and company culture quickly became a selling point for the firm when hiring.
Externally, the company experienced improved online visibility with the development of its new website. We delivered an enhanced user experience, increased traffic and stronger visitor engagement behavior.
C&I continues to engage prospects with a market-differentiated message and a cohesive value proposition, resulting in larger and longer project opportunities.
"With a refreshed brand strategy and new marketing and recruiting materials, we gained the tools and messages to better engage our audience around our mission and vision. The brand reinforces our longstanding commitment to quality, service and integrity."

— Rich Vance
Marketing & Sales Manager, C&I Engineering
Related Work
Chemstations

GSE Environmental