Employer Flexible
---
Learn How We Restructured Services and Repositioned this Company to Drive Sales and Differentiation
°
---
Overview
Employer Flexible, an emerging leader in the professional employer organization (PEO) arena, needed to gain visibility over leading and much larger competitors, grow and engage its customer base, build authority and showcase expertise in ways that reflected its expanding influence in the industry.
What We Did
Assessed and benchmarked the brand
Strategically positioned the brand
Grew sales across all branches of the company
Launched a new website
How We Did It
Refined customer messaging and framework
Created a platform to showcase insights and expertise
Launched lead generation and switching programs
Increased quality of leads and profits
Challenge
The company wanted to claim its own space in the market, but it had outgrown its current marketing efforts and needed guidance on how to connect with more potential customers. The company had also recently acquired an IT solutions branch that needed a new identity that fit within the overall Employer Flexible brand.
It was crucial to assess and redefine the company's market position in order to differentiate it from the competition, extend its audience reach and attract new clients.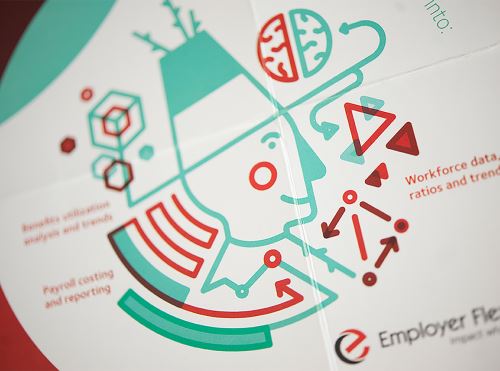 Strategy
Internally and Externally Transform the Brand
Our discovery process showed gaps that needed closing from the inside out. These included revamping sales processes and customer service protocols to support the direction that the company needed to grow in the marketplace.
Launched a New Sub Brand
Employer Flexible had acquired Empact IT, which needed a refresh to meet new standards and fit within the parent brand. We developed strategic messaging and fresh visuals that communicated Employer Flexible's commitment to "impact what matters."
Grow Sales Across All Branches of the Company
We worked with Employer Flexible to create new avenues to support its goals to increase brand awareness and determine a more systematic way to drive qualified leads.
Through our integrated approach, we implemented direct marketing campaigns, including direct mail and email newsletters, online marketing campaigns with PPC and banner advertisements, and launched a new Knowledge Series platform to support Employer Flexible's thought leadership strategy.
Create a Platform to Showcase Insights and Expertise
To reposition the company, we developed and launched Knowledge Series. This platform supported our leadership strategy and gave the brand better marketplace visibility and differentiation against larger competitors.
Impact
Overall, we helped Employer Flexible implement new strategic messaging, build a robust thought leadership platform and increase customer touch points.
Our marketing efforts brought new leads to the sales team, increasing initial conversations by 61%. Employer Flexible maintained a 90% client retention rate and its Net Promoter Score (NPS) grew to 60, a stellar NPS indicating an increase in customer loyalty.
Additionally, our program with its subsidiary, Empact IT, grew both revenue and initial sales conversations by 50%.
Today, we continue to support the company's new and ongoing campaigns, acting as partners toward realizing their business goals and inspiring belief.
Related Work
CompleteRx

Ascende

Explore How a Rebrand Helped a Human Capital Brand Navigate Uncertainty in the Energy Industry°

Explore our case study
Related News and Insights