Marine Military Academy
---
Read How a Rebrand Turned Around Leads and Enrollment for this School
°
---
Overview
Marine Military Academy (MMA) offers college preparatory and Marine Corps Junior ROTC programs to young men in grades 8-12. While MMA boasts a 97% college acceptance rate and a huge advantage for those applying to the U.S. service academies, the school still found itself in the midst of a steady drop in enrollment.
What We Did
Redefined brand experience
Increased reach and engagement
Increased amount of international students
Dispelled misperceptions of military boarding schools
How We Did It
Transformed the brand
Clarified position in the marketplace
Created continuous recruiting engagement
Improved web experience
Challenge
When enrollment numbers continued to decline, MMA knew it needed an internal brand transformation. Through a comprehensive assessment process to reverse the downward trend, we discovered that the academy needed a site that recruiters could use to generate quality leads. MMA also needed to make it easy for prospective students and their parents to get the information they need to make informed decisions.
Strategy
Redefine the Entire Brand Experience
To help define the academy's position as a premier boarding school, we developed enhanced messaging that spoke to the full value of a MMA education. We helped MMA tell the story of how the structure and values of the U.S. Marine tradition transforms young boys into men.
We made dozens of specific strategic and tactical recommendations to support a stronger brand, develop a more valuable brand promise and improve lead generation and internal operations.
Create 24/7 Recruiting Engagement
With a solidified brand message in place, the academy needed new avenues where it could tell its story to a wider audience. We developed a website that strengthens the academy's brand perception, tells MMA's story clearly and concisely, offers improved usability, engages users with more interactivity and compelling imagery, increases opportunity for dialogue through use of social media and provides a better path for the application process.
Increase Amount of International Students
Along with the new website, we developed separate Spanish and Chinese language microsites to attract a diverse and international student body. These microsites have proven to be widely successful for meeting the primary goal of attracting international students to MMA.
Dispel Misperceptions of Military Boarding Schools
Parents often view military boarding school as a threat for children with disciplinary issues. MMA wanted to position itself not as a threat but an opportunity for young men wanting to enroll in elite military academies and transform their lives. We showcased that life on the MMA campus isn't a punishment as it is filled with adventurous activities and support from mentors.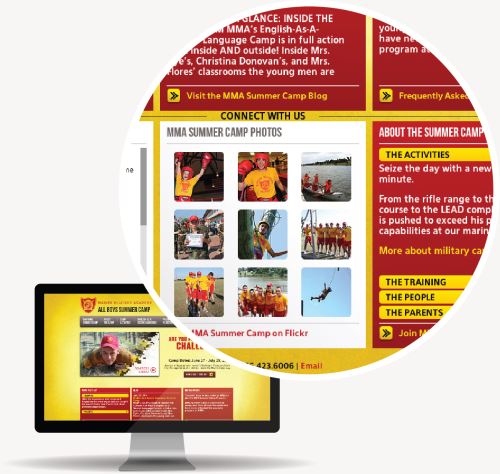 Impact
With a clearly defined position within the marketplace as a premier college preparatory boarding school and its new brand concept, MMA now conveys its ability to give students the building blocks to transform.
Its rapid brand adoption led to a 37% increase in new U.S. based student enrollment inquiry form submissions. The rebranding and new website resulted in a 647% increase in site visits from leads in China and 390% increase from leads in Mexico.
Belief in the new positioning allowed the school to embrace the new operational changes, leading to an adaptation of behavior that aligns with the new brand. The MMA has revamped its curriculum, updated its pitch to prospective students and retooled its internal training program. This translated to a 500% increase in social engagement and a 500% lead increase through digital recruitment seminar attendance.
"MMA is a prime example of how a rebrand can inspire change. We were able to help them find their true voice, which helped them understand the need for evolving how they conduct their recruiting and fundraising efforts."

— Jonathan Fisher
Chairman, BrandExtract
Related Work
Chemstations

San Jacinto Museum of History
Related News and Insights