DistributionNOW
---
Learn how we developed a fresh identity and standards to efficiently deploy a global brand
°
---
A new name is crisscrossing the distribution channels of the energy and industrial business sectors. The former distribution arm of National Oilwell Varco is today a separate independent company, DistributionNOW.
To help define and launch the new brand, the energy and industrial sectors' leading distributor of pipes, valves, fittings and artificial lift systems turned to BrandExtract.
What We Did
Spinoff the company
Rename the company
Drive sales
How We Did It
Define what the company stands for
Build the brand from scratch
Penetrate new markets
The Challenge
While the name is new, the experience and expertise has spanned some 150 years. The challenge before us was figuring out how we illustrate the new brand with its new independence and new energy, while somehow maintaining a connection with the great heritage and respected reputations of the legacy brands: National, Oilwell and Wilson Supply, hence N-O-W.
As we were designing and developing the brand with it's various graphic elements, DistributionNOW was also driving toward its formal announcement on Wall Street as a new publicly traded company. The website was an immediate priority.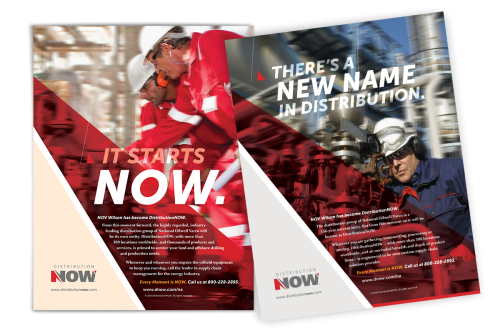 The Solution
At any given moment (now), DistributionNOW is working, serving, delivering. We wanted the brand to reflect that perpetual effort.
Since DistributionNOW is always occurring, always in motion, never at rest, our messaging reflected that continuous sense of duty. DistributionNOW customers are doing enormous things like assuring that people have heat and power and the wheels of commerce can keep spinning. The new brand captures that sense of urgency and helps DistributionNOW express their efficiency and commitment to deliver on a moment's notice.
The visual content of DistributionNOW's marketing materials are purposeful, carefully selected and/or designed with the company's character and culture in mind. The red needle, reflected across several elements including the company logo, suggests measurement, precision and urgency. Think speedometer, tachometer or a scale. To meet and exceed client expectations, DistributionNOW is constantly measuring programs and processes for efficiency.
The Significance of NOW — What the Mark Means
The identity conveys movement in more than one direction, signifying the rapid, reliable and efficient distribution of supplies. The structure of the N suggests dynamic movement, but also a convergence, as DistributionNOW and its customers together create reliable, efficient distribution solutions. The space through the center of the N represents a consistent, well-paved pathway for connection, communication and commerce. The triangular red tip of the W is a simple, logical nod to the legacy Wilson logo.


The Impact
Beyond developing the entire identity package and collateral materials, perhaps our single most important deliverable were the detailed branding guidelines. In the brand guidebook, we outlined every detail of the brand, broken-down to every last point size, x-height and RGB value. DistributionNOW is now empowered and equipped with all they need to produce branded materials for almost any application.
"We are coming from a very large, known entity with a lot of brand equity in National Oilwell Varco. The challenge is to capitalize on that, yet become our own distinct brand. BrandExtract helped us define our true identity and express it across all touch points."

— Robert Workman
President & CEO, DistributionNOW