San Jacinto Museum of History
---
Learn how we reengaged the public in a 200-year-old battle
°
---
BrandExtract has proudly nurtured a relationship with the San Jacinto Museum of History and its centerpiece, the San Jacinto Monument, since 2002. We used the most recent opportunity to guide them by creating a digital experience to showcase the museum and monument in a much more robust and relevant manner for today's online visitor.
What We Did
Increased awareness of the San Jacinto Museum of History
Reached new potential visitors
Better positioned the brand to gather corporate sponsorship
Set benchmarks for future performance measurement
How We Did It
Created a more relevant digital experience
Expanded digital content with a new focus on interactive education
Established an analytics program to support donor relations
The Challenge
The Battle of San Jacinto played a vital role in the shaping of the United States and the world. The continual challenge for the San Jacinto Museum of History is to constantly draw the attention of students, history buffs and proud Texans around the world. Additionally, it must court the corporate sponsorship that plays an unspeakably huge part in the financial well-being of this priceless Texas landmark.
A Tall Order
To help maintain relevance and draw visitors from around the world in this increasingly digital age, the Museum must make sure that the online experience is as robust and meaningful as the museum and 570 ft. monument themselves
The Solution
The goal for the new San Jacinto website was to create an extremely interactive, completely immersive experience that engages every visitor, from elementary student to history expert. As our user experience process took shape, the team added elements that draw the visitor deeper into the site. Interactive maps and illustrations take users back to the epic battle and show them the long-reaching effects of that fateful day. An extensive, searchable catalog of thousands of artifacts was put at the visitor's fingertips with the intention of helping them experience first-hand what life was like in Southeast Texas 170 years ago. And with truly game-changing technology, like a webcam mounted atop the monument's Lone Star and searchable library catalog, the site comes alive for users across the globe.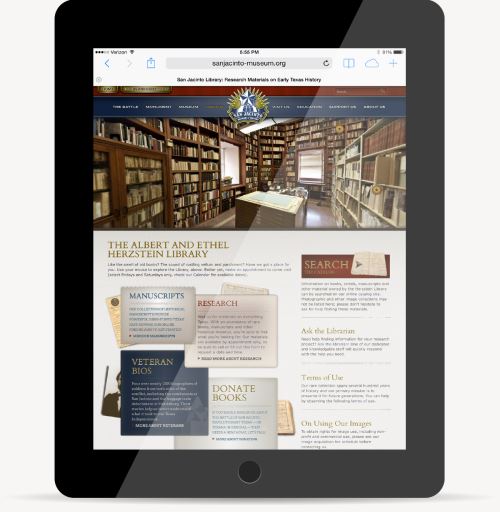 The Impact
The newly interactive San Jacinto Museum of History website launched in summer of 2013. The robust new site gives the museum a platform to attract more corporate sponsorship. The BrandExtract team incorporates incisive analytics into the structure of the site to better track user behavior and allow for testing and refinement. In the future, the museum will be able to demonstrate in a clear and concrete way the ROI for corporate sponsors' patronage.
Over the next 6 months, the site experienced a 153% increase in web traffic compared to the previous year. And, as a pleasant side effect, the museum itself experienced a 123% increase to physical attendance.
We continue to enjoy a growth-oriented partnership with the San Jacinto Museum of History and Monument in 2015.
"Sometimes it takes a new way of looking at history to rediscover your mission and how you share it with others. We could never have anticipated this wonderful organic process without the guidance and dedication of the entire BrandExtract team."

— Larry Spasic
Executive Director, San Jacinto Museum of History
Related Work
Marine Military Academy

Chemstations