Carleton Smith, Jr.
Production Designer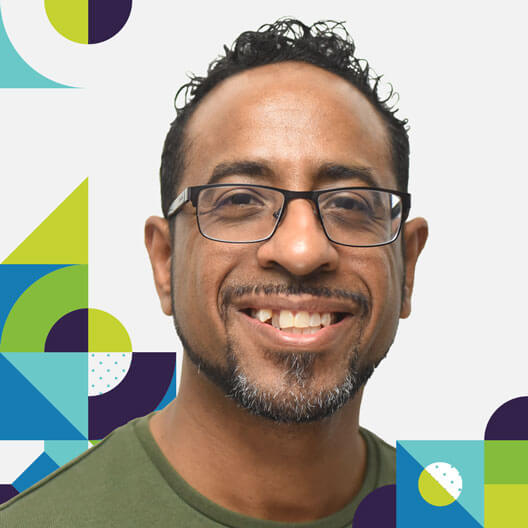 Production Pro, Superhero Savant, Foodie
A firm believer in the value of creativity, Carleton looks for opportunities to push the boundaries of whatever he's working with. As a designer, Carleton draws inspiration from the collaborative process of production design. He loves a good challenge, and thrives when he can let his imagination run rampant.
"Simplify the complex and create with passion to get the job done."
Originally from Detroit, Michigan, Carleton earned his BFA in Illustration from The Center for Creative Studies. He moved to Texas in the early 2000s and quickly developed his craft in branding and advertising.
Having spent a significant amount of time doing press checks, Carleton appreciates the intense precision that goes into production design. He's found that everyone in the production process, from illustrator to press operator, uses their creative spark to inspire people with their work.
A lifelong fan of comics, superhero movies and artwork, Carleton loves to fire up his imagination by looking at creative character designs. He's especially fascinated by all the ways colors can be combined to create unique identities and concepts.
Prior to joining BrandExtract, Carleton helped design logos and trade show materials for a variety of businesses and organizations around Houston. He also spent nine years as a designer and illustrator at Axiom.
When he's not perfecting every inch of a new design, Carleton is still flexing his creative muscles by illustrating his own comic book series. He also loves spending time with his wife and his son, with whom he avidly enjoys the latest video games.
Education
BFA in Illustration from The Center for Creative Studies in Detroit



Awards
Best Stand Up to 24 SQM Gold Award – JARS @ Housewares Show 2019,

Best Stand At a Professional Services Event Bronze Award – Waste Management @ Waste Expo 2019,

Best Fabric Exhibit 2019 - Exhibitor Magazine's sixth annual Portable Modular Awards for Autodesk
Organizations
Previously VP for Art Directors Club of Houston