BrandExtract Develops Digital Experience for ABS Group
June 8, 2016
---
Brand experience firm BrandExtract launched a new website for leading technical services provider, ABS Group of Companies on March 24.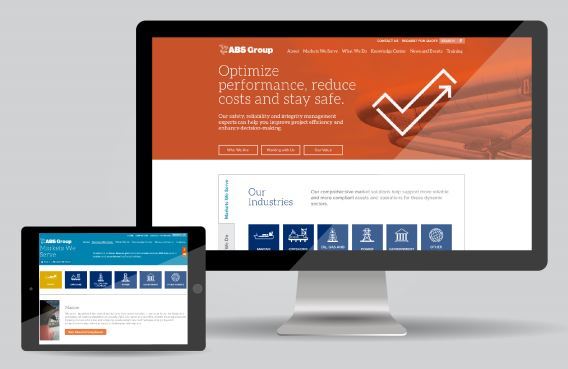 "The new website is radically changing the way ABS Group communicates with our clients and the markets we serve," says Andy Hilditch, Director of Marketing and Communications for ABS Group. "We are now able to clearly display and promote our core values and technical solutions, which focus on delivering value to asset intensive markets globally. The new organization and flow of information on the site makes it easier for visitors to understand how we can address their specific industry needs through our diverse range of services, and also provides them with real-world examples of our work and value-based insights into how we can help improve business efficiency and performance."
The completely revamped website started with a discovery and analysis period, conducted by BrandExtract. The team evaluated ABS Group's global network of websites and interviewed stakeholders throughout the company. "Through this comprehensive assessment, we were able to simplify complex business offerings and solutions that ultimately led to clearer user paths within the website, which was one of our primary goals," commented Elizabeth Tindall, BrandExtract Brand Strategist. User testing with key audience groups also informed the final information architecture, conversion strategy and content on the site.
A key component of the website is the new Knowledge Center, a collection of ABS Group's projects, expert insights and leading edge webinars that highlight the company's commitment to educating its clients and other partners. This dynamic section will continue to house new content focused on the real-world application of ABS Group's solutions as well as the impact their globally trained employees have on driving the industry forward.
"This smart, strategic content, coupled with an intuitive user experience reinforces ABS Group's position as a global expert," said Cynthia Stipeche, Director of User Experience for BrandExtract, "and the company is going to be able to play a bigger role in leading the industry conversation as a result."
The site was built in BrandExtract's SAM 3.0 content management system, which provides adaptability and scalability for ABS Group to manage their content with greater flexibility.
Explore the new ABS Group website at abs-group.com
"The new website is radically changing the way ABS Group communicates with our clients and the markets we serve."

— Andy Hilditch
Director of Marketing and Communications for ABS Group